Taiwan's opposition rejects talks call
(AFP)
Updated: 2006-06-06 11:54
TAIPEI - Taiwan's key opposition leader rejected an invitation from "president" Chen Shui-bian to hold cross party talks, saying "matters of right or wrong and cannot possibly be solved in such a coffee break."
"Vice president" Annette Lu said Monday that she had obtained Chen's permission before asking "parliament speaker" Wang Jin-pyng to invite the leaders of the five major political parties and other top government officials to sit down and talk, "so as to exchange views on the present situation".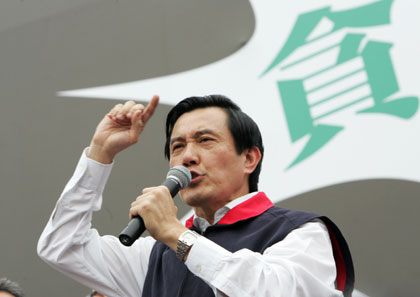 Ma Ying-jeou, chairman of Taiwan's main opposition Nationalist Party speaks as as he joins protestors in a chant for "president" Chen Shui-bian to step down, in Taipei June 3, 2006. [Reuters]


Speaking at the opening of a seminar in Taipei, she said she hoped "wisdom would be pooled" at the meeting to tackle what she said was one of the worst political crises facing Taiwan.

But the invitation was rejected by Kuomintang (KMT) leader and Taipei Mayor Ma Ying-jeou who insisted that "president" Chen resign.

"There are some things which are matters of right or wrong and cannot possibly be solved in such a coffee break," KMT spokeswoman Cheng Li-wen told reporters.

Ma has threatened that if the "president" fails to quit he might table a no-confidence vote in the cabinet of Chen-appointed "premier" Su Tseng-chang.

The KMT and its ally the People First party hold a slim majority in parliament, meaning such a move may well succeed.

Yu Shyi-kun, head of the Democratic Progressive Party with which Chen is affiliated, said that should the opposition succeed in pushing through a no-confidence vote, then he would recommend the "president" dissolve parliament.

The political uncertainty sent jitters through Taiwan's stock investors, causing share prices to plunge by a 3.51 percent.

The crisis erupted after Chen's son-in-law, Chao Chien-ming, was arrested in connection with alleged insider trading, leading Chen to apologise to the people and hand over some of his decision-making powers to Su in a bid to ease the pressure.

But that move was also criticised by KMT: "The responsibility and duties between the president and premier are clearly stipulated in the constitution and must not be illegally traded in private," said spokeswoman Cheng.