Top leaders attend science summit
(Xinhua)
Updated: 2006-06-05 12:35
Top Chinese leaders, including Chinese President and General Secretary of the Communist Party of China (CPC) Central Committee Hu Jintao, attended on Monday the academician conference of the Chinese Academy of Sciences (CAS) and the Chinese Academy of Engineering (CAE).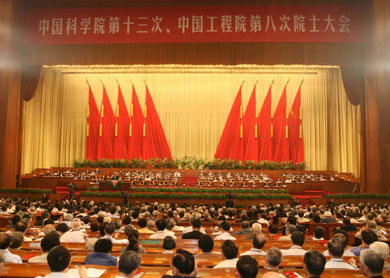 The 13th conference of academicians of the Chinese Academy of Sciences and the Chinese Academy of Engineering opens in the Great Hall of the People in Beijing June 5, 2006. [Xinhua]
Other members of the Standing Committee of the Political Bureau of CPC Central Committee who were present at the opening ceremony of the science summit are Wu Bangguo, Wen Jiabao, Jia Qinglin, Zeng Qinghong, Huang Ju, Wu Guanzheng, Li Changchun and Luo Gan.
Vice Premier Huang Ju, 67, previously reported to be hospitalized, also attended the conference alongside the other eight Standing Committee members, Xinhua news agency said.
In March during the annual session of the National People's Congress, an NPC spokesman confirmed Huang was hospitalized but is recovering well.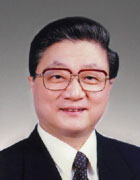 China's Vice-Premier Huang Ju [file photo]

At the four-day conference, the CAS is to revise its constitution, elect new leadership for its academic divisions, and elect the seventh batch of its foreign associates. The CAE will elect a new leadership for its presidium. A total of 20 senior engineers will be awarded the Sixth Guanghua Engineering Science and Technology Prize at the conference.

Academic workshops will also be held during the conference.

Under the CAS and CAE constitutions, the two academies must organize conferences of Academicians once every two years. The CAS has 704 academicians and foreign associates while the CAE has 701 academicians and foreign associates.