China published on Monday a white paper on environmental protection, illustrating the government's persistent efforts in this field in the past decade.
The white paper also says that the situation of environmental protection in the country is still "grave".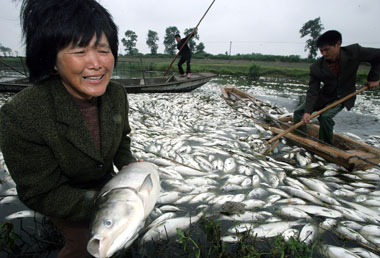 A distressed family yesterday take out dead fish from their pond in Xiaoshan District of Hangzhou, capital of East China's Zhejiang Province. The fish were first found floating on Friday afternoon, possibly due to pollution from a nearby factory, according to Yin, the owner of the fishpond. Fish, shrimps, crabs and tortoises weighing 50,000 kilograms were dead by yesterday, causing a loss of 300,000 yuan (US$37,500), Yin said. The local environment authorities are investigating the case. [newsphoto]


The 45-page white paper, the second of its kind since 1996, is titled "Environmental Protection in China (1996-2005)" and released by the Information Office of the State Council, China's cabinet.

The white paper points out that since the late 1970s, China's economy has developed rapidly and continuously. During the process, many environmental problems that have haunted developed countries in different phases of their 100-year-long industrialization have occurred in China all at the same time.

The conflict between environment and development is becoming ever more prominent. Relative shortage of resources, a fragile ecological environment and insufficient environmental capacity are becoming critical problems hindering China's development, it says.

The Chinese government has attached great importance to environmental protection and set it as a basic national policy and sustainable development as an important strategy.

Thanks to these efforts, although the amount of resource consumption and pollutants is increasing greatly, the trend toward aggravated environmental pollution and ecological destruction is slowing down, says the white paper.

Environmental pollution control in some river valleys has seen some positive results, the environmental quality of some cities and regions has improved, the amount of pollutant emission of industrial products has declined, and the people's awareness of the importance of environmental protection has enhanced, it elaborates.

The 17,000-word white paper briefs on China's achievements in environmental protection legislation and system, prevention and control of industrial pollution, pollution control in key regions, environmental impact assessment, international cooperation in environmental protection and some other related aspects.

According to the white paper, since 1996, the State has formulated or revised major laws on environmental protection, such as those on prevention and control of water pollution, marine environment protection, prevention and control of air pollution, as well as evaluation of environmental impact.

The State Council has formulated or revised over 50 administrative regulations to strengthen environmental protection.

Relevant departments of the State Council, local people's congresses and local people's governments have, within the limit of their powers, formulated and promulgated over 660 central and local rules and regulations in order to implement the national laws and administrative regulations on environmental protection.