Premier calls for large coal production
(Xinhua)
Updated: 2006-06-05 06:35
Chinese Premier Wen Jiabao has called for the creation of large coal producers with the annual production capacities of at least 100 million tons each during a visit to North China.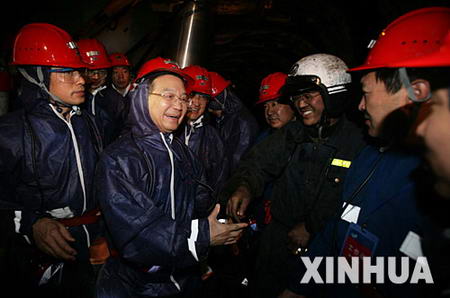 Chinese Premier Wen Jiabao (2nd L Front) talks with workers underground in the Shangwan Coal Mine of Shenhua Group in north China's Inner Mongolia Autonomous Region June 2, 2006. [Xinhua]


The conditions were right for speeding up modernization of the coal industry, said Wen during an inspection tour of Inner Mongolia Autonomous Region from June 2 to 4.

He said advanced technologies should be adopted to increase the profits of the industry and ensure work safety.

The reform and development of the industry concerned the overall growth of national economy and large coal production bases should be built through acquisitions and regrouping, said Wen, during a stop at China's largest coal producer, Shenhua Group.

The coal industry should develop large companies, introduce modern equipment and train its staff in more professional methods, said Wen, who also required more efforts to ensure safety in coal production.

During his tour of Inner Mongolia, Wen also said more effort should be made to develop stock-breeding and specialist agriculture, adding that sand control and water conservation should be given priority.