Last November, Chinese 'net stars like the Backdorm Boys were getting picked up by companies like Motorola to be spokespersons.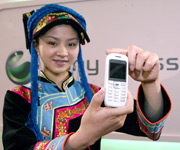 BBstar Tianxian Meimei image represents Sony Ericsson mobile phones. [sina]

The trend continues. Not only have the Backdorm Boys picked up more steam recently, other stars have come into play.

1010job.com picked up JuHua Jie Jie (the William Hung for China) for a series of TVC's earlier this year. You can see the video that made her a star here and two TVC's here and here.

Pepsi picked up the Back Dorm Boys for its Pepsi Creative Challenge campaign and for their Mydadada campaign. The boys are also in a TVC with Nicolas Xie for the new Pepsi Max drink.

Interestingly, one of the earliest net stars, Fu Rong Jie Jie, never made the cross over to significant commercial success.

Most significantly, a couple of months ago, Sony Ericsson picked Tian Xian Mei Mei as spokesperson for its "Simple Happiness" series of low end mobile phones.

This "pure country girl" from Sichuan who became all the rage on Tom.com and Tianya.com BBS, was plastered on Sony Ericsson promotion media all over Shanghai (and I guess the rest of China): on light boxes on Huai Hai Road, in store displays (right next to their Da Vinci Code promotion), and on brochures.

What is different with other companies using net stars is that Sony Ericsson pushed Tian Xian MM as a significant part of their marketing for the series. She is not just on the net in a contest or in a viral video...marketing dollars are pushing her image both online and offline.

We track BBS messages for the mobile phone industry, and we noticed a significant spike in messages regarding the "Simple Happiness" series, and a significant part of it can be attributed to Tian Xian MM suggesting that this strategy is making a significant impact.

We are also beginning to see that some potential net stars are promoting themselves with success, such as dodolook. For months, she has been making her self promotion videos and even her own ads for brands (see her self made Pepsi ad below).

She is gaining momentum as a net-star thanks to this self promotion. She recently got picked up by Mop ji-log (geek blog), is getting on TV shows in Taiwan and is getting more press.

The premise of sites like Toodou and Wangyou is that there is a desire for at least some individuals to use the net as their launching pad to fame.

Even more interesting is that we are seeing that such sites are in a position to become the next "star makers." These sites recognize that they are actually new media channels and that their job is not to create stars, but to nurture a community which can create stars.

Yes, Super Girl (the Chinese version of American Idol) and the zillion other reality TV shows will likely always take a primary seat for creating super stars, but not all stars have to be "super" to make an impact in particular communities as Tian Xian MM proves.

The fact that some sites like Tianya are following explicit strategies to make stars is another story worth writing about...and one that I will cover in an upcoming post...