Chen yields power amid scandal
(Agencies)
Updated: 2006-06-01 14:22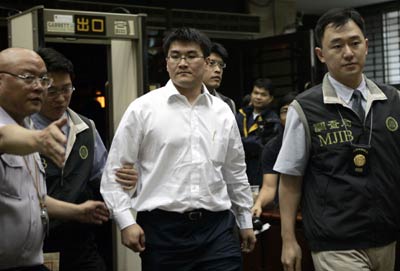 Chao Chien-ming, a doctor married to Taiwan leader Chen Shui-bian's daughter, is escorted by Bureau of Investigation agents in Taipei May 24, 2006. Chao and four members of Chen's family were questioned for an insider trading scandal. [Reuters]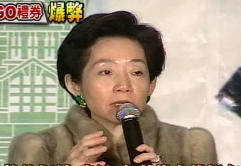 Chen's wife, Wu Shu-chen is involved in another scandal, accused of receiving free vouchers from the management of an upscale Taipei department store.
Taiwan leader Chen Shui-bian has handed over the day-to-day control of the island's government to the "premier" Su Tseng-chang amid a swirl of corruption scandals embroiling his family.

Chen, whose approval rating has sunk to new lows after an insider trading scandal implicated his son-in-law, said late on Wednesday that Su Tseng-chang would be wholly responsible for appointing "cabinet ministers" and setting government policy.
The move late Wednesday came as opposition leaders pressed forward with efforts to recall Chen - a procedure that requires a two-thirds legislative majority and the support of at least half of Taiwan's eligible voters.

On Thursday Nationalist Party head Ma Ying-jeou - the front-runner in the island's 2008 elections - said Chen's move did not go far enough and that he should resign from office.

Chen, whose term ends in 2008, appears to have given up many of his powers, including the ability to set policy outlines and carry them out.

Political scientist Emile Sheng of Taipei's Soochow University said that Chen's move signaled the effective end of his authority.

"Chen Shui-bian is definitely a lame duck," he said. "He can no longer enact any substantive policy in the next two years."

In a written statement Wednesday night Chen pledged to give full power to Su Tseng-chang to control the so-called "Taiwan Cabinet", spokesman David Lee said.

Chen also said he would no longer intervene in the affairs of the ruling Democratic Progressive Party, including its political campaigns, Lee said. Chen and his family members further promised to "conduct themselves according to the highest ethical standards and live up to the public's expectations," the statement said.

The statement was issued amid rising calls in both the DPP and the opposition for him to take responsibility for a series of scandals embroiling his family and administration.

Police on May 24 arrested Chen's son-in-law Chao Chien-min on suspicion he used insider information to profit on the purchases of shares in property company Taiwan Development Corp.