A ban on land allotment for building villas will be strictly implemented, the Ministry of Land and Resources (MLR) announced yesterday adding more muscle to recent government moves to cool down the property market.
A statement by MLR Vice-Minister Wang Shiyuan urged governments at various levels to "immediately" halt the approval of land supply for villa construction; and make a structural adjustment of land supply.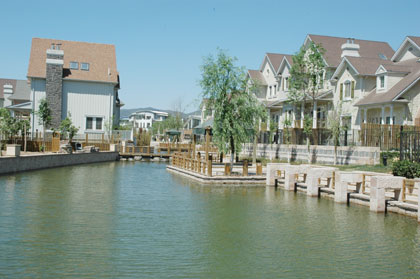 The villa area at the foot of Fragrance Hill in northwestern Beijing. [newsphoto file]


Although a ban on land approval for villas was imposed three years ago, when Beijing moved to slow down the rise of some macro-economic indices, nationwide implementation has been inconsistent; and indifferent in some places.

According to Shu Kexin, vice-director of MLR's land use department, many local governments have given the green light to luxury-housing estates which did not use the word "villas."

"The country cannot afford construction of large villas to meet the demand of a few high-end customers while sacrificing the interests of the majority," Shu said.

Shu also pointed out that the rapid increase of housing prices in many places was a result of a poor balance between supply and demand, and not because of limited land supply.

There is a misconception that land makes up a big chunk of property prices but, for instance, they account for only 6-8 per cent of real-estate prices in Beijing, he said.

To cool down the overheated market, the central government on Monday announced a package of policies, including raising mortgage down payments from 20 to 30 per cent on units larger than 90 square metres; and requiring that 70 per cent of all houses be smaller than 90 square metres.

Priority in land allocation will be given to projects building mid- and low-price or small apartments.

At the same time, MLR officials said, information about land supply and use will be made available to the public.

Vice-Minister Wang pledged that land authorities would work together with the Ministry of Supervision to investigate irregularities in housing-related cases.

Meanwhile, the State Administration of Foreign Exchange (SAFE) yesterday did not, as widely speculated, announce any restriction on foreigners purchasing property which has been a rising trend in recent years.

Financial experts have been calling for curbs because of significant amount of foreign money entering the property market.

According to a SAFE report, FDI inflows last year were US$79.1 billion, showing a year-on-year increase of 44 per cent. Of this, US$3.4 billion was spent on houses by institutional buyers.