Chinese woman wins breast implant lawsuit
(Kyodo)
Updated: 2006-05-31 11:47
A Chinese woman who sued a cosmetic clinic in southern China's Guangdong Province for using a banned toxic gel for her breast implant has been granted 36,000 yuan (about $4,497) in compensation after a court found the clinic at fault, local media reported Tuesday.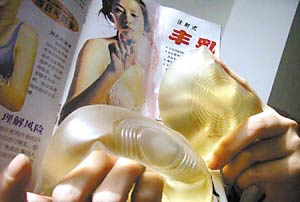 China's food and drug administration banned the use of PAAG for breast implant. [Zhengzhou Daily]


The 36-year-old woman, surnamed Xu, visited the Huamei Cosmetic Clinic in the provincial capital Guangzhou in May last year for an injection of PAAG, or hydrophilic polyacrylamide gel. Side effects including pain, lumps and inflammation in the breast tissue appeared shortly afterward and surgery to remove the gel failed.

The court ruled that Huamei had used an unapproved product that caused injury to Xu, who was granted compensation for surgery costs, medical inspection fees and psychological suffering, the report said.

China's food and drug administration last month banned the use of PAAG.

It is the first PAAG lawsuit launched in Guangzhou. In Shenzhen, also in Guangdong Province, a cosmetic surgery hospital is facing a similar lawsuit from a patient seeking 210,000 yuan in compensation.

The Shenzhen hospital was shut down by government last Tuesday after several Hong Kong reporters covering the lawsuit were allegedly attacked by hospital staff.