Wynn pays record price for Chinese Ming vase
(China Daily)
Updated: 2006-05-31 09:55
A rare underglaze copper-red Ming Dynasty (1368-1644) vase sold for HK$78.52 million (US$10.13 million) in Hong Kong on Tuesday, setting a world auction record for Ming porcelain.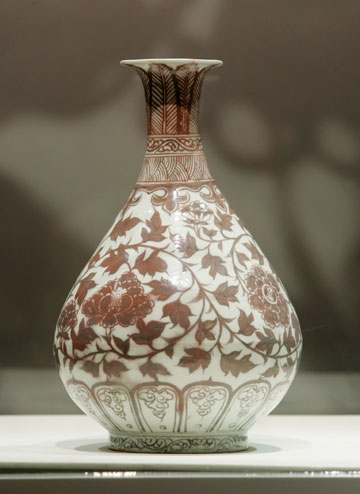 An early Ming underglaze copper-red vase is displayed after it was sold for a world record of US$10,122,558 for any Ming porcelain during Christie's "The Imperial Sale" auction in Hong Kong May 30, 2006. [Reuters]
"He's bought the vase at the right price, making a world record," said Edward Dolman, chief executive officer of Christie's International, referring to buyer Steve Wynn, Las Vegas casino mogul Steve Wynn.
The pear-shaped vase, decorated with a peony scroll, is the only copper-red vase of the early Ming Dynasty still in perfect condition to be offered at auction in more than 15 years, said Christie's Hong Kong office.
The vase was originally inherited by a Scottish couple who used it as a lamp and did not realize its value until they saw a similar example in a museum.
Ceramics with underglaze copper-red decoration are very rare, owing to their complicated production process.
Mineral copper used to produce the raspberry-red tone is notoriously difficult to control during the firing process, and often leaves the porcelain with a grey or almost colourless coating.
Of the small number of underglaze copper-red Ming vases remaining, most have suffered some degree of damage, especially on the narrow and thin necks. The peony vase auctioned yesterday is one of rare successes where the pattern is expertly executed and the colour is evenly distributed, and has also survived without damage.