GUANGZHOU: Spot checks on the quality of children's clothes made in Guangdong Province have caused alarm, after half of the items examined failed safety tests, the provincial Administration of Industry and Commerce revealed on Monday.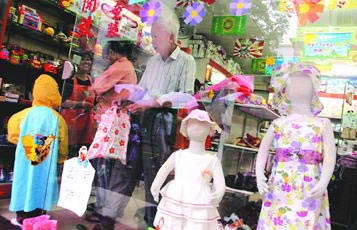 Cosumers buy children's cloths at a shop in Guangdong. [Information Times]
The administration checked 91 batches of children's clothes at 22 supermarkets in six cities from January to March, including Guangzhou and Shenzhen.
Investigators put the items through eight tests, including levels of formaldehyde, PH value (to determine acidity or alkalinity) and veracity of the label. Only 50.6 per cent of the clothes passed all the tests.
The most serious discovery was the presence of a harmful dye called aromatic amine in about 10 per cent of the checked clothes.
Aromatic amine cannot be washed away, and causes bladder or urethra cancer if it stays in contact with the skin for a long period of time, a source at the administration said.
The worst case was 10 times above the legal limit.
Since the dye has no special smell or colour, ordinary consumers cannot identify it.
A total of 32 batches of clothes did not meet the national standard for PH value, which is between PH 4.0 and PH 7.5. Clothes with higher or lower PH values damage children's skin, the administration said.
Some clothes contained excessive formaldehyde, which can cause children to suffer bronchitis, insomnia and loss of appetite, as well as lowering natural resistance to diseases,
Meanwhile, 30 batches of clothes were found to have no content labels or unqualified labels.
More inspections
"The lower-level administrations will assign investigators to inspect markets and stores. Anyone who is still selling dangerous clothes will be fined, and all offending items will be confiscated," Hu Yanni, an officer of the administration, told China Daily.
The administration revealed 51 brands of clothes that failed the tests, including some well-known names such as Bettyboop, e.baby, and Mina.
Despite the warning, some dangerous clothes were still on sale in Guangzhou yesterday.
A number of Bettyboop franchise stores were operating as usual yesterday, and salespersons said they did not know the details of the case.
"Since well-known brands may also be producing dangerous clothes, I am very scared and confused about what I should buy for my little boy," Lin Yingxia, a 25-year-old mother of a newly-born baby, said. "I think I will choose white coloured clothes."
She said the administration should heavily fine guilty manufacturers and publish all of their names.
Also on Monday, the administration carried out spot checks on food and toys aimed at children. While the majority of the children's food passed the tests, 37 per cent of the toys failed.
Toys made with cloth had the lowest pass rate, just 16.7 per cent, but metal toys were found to be 100 per cent qualified.
On the national level, State Bureau of Quality and Technical Supervision recently did a similar spot check on 74 batches of children's garments in 74 companies in nine provinces and municipalities, finding 37.8 per cent of products to be unqualified.
The bureau advised consumers to purchase children's clothes made from soft, permeable materials. People should read the clothing labels clearly before they decide to buy.
Experts expressed their concern over the problems.
"Children are the future of our country," said Xiao Bin, a professor at Guangzhou-based Sun Yat-sen University.
"The producers of children's articles should stop making dangerous items. Parents should be more cautious when they are purchasing clothes, toys, food or other things for their children."