The cabinet has decided to significantly tighten the rules regarding mortgage down payments and housing transactions, in a bid to cool down the country's over-heated property sector.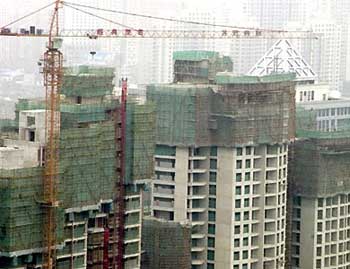 New residential buildings are erected along Maoming Road in Shanghai, which is on the list of five cities that recorded the biggest drop in housing prices last month. [Shanghai Daily]


According to a statement issued by the State Council yesterday, as of June 1 the minimum down payment for a new apartment larger than 90 square metres will be raised from 20 per cent to 30 per cent.

The ratio for an apartment smaller than 90 square metres will remain unchanged at 20 per cent, to cater to "the needs of middle- and low-income groups," the statement said.

In another important move, a transaction tax will be imposed on people attempting to resell their properties within five years of purchase. The current period is two years. The tax rate will stay unchanged at 5.5 per cent of the sale value.

The move, also effective June 1, is aimed at "curbing speculative and investment-oriented housing demand," according to the statement.

"The transaction tax will certainly do something to combat investment-oriented housing demand, although it will depend on how effectively the new rules are enforced," said Wang Deyong, a real-estate industry analyst with CITIC Securities.

"This tax on sales of second-hand houses, together with other measures in the State Council statement, are likely to have an impact on the market, but it won't be dramatic," said Richard Wang, associate director of Consultancy and Research Department with global real-estate advisor DTZ's Beijing office.

However, for high-income earners the down payment increase may not be a major deterrent.

"It will have little, if any, impact on my home-buying plan," said Zhao Guocheng, 28, an Internet service company employee in Beijing.

"If it were raised to 50 per cent, as was rumoured one week ago, then I would have to rethink my purchase plan. Perhaps I would have to work hard for many more years to buy a flat," said Zhao.

Earlier, in an executive meeting chaired by Premier Wen Jiabao on May 17, the State Council vowed to use a mix of tax, credit and land policies for this purpose.

The State Administration of Taxation also issued a directive on May 19 reiterating its call on local governments to impose a 20 per cent capital-gain tax on sales of second-hand property, which requires sellers to pay 20 per cent of the profit they make from housing sales as tax.

Property prices in China's major cities have soared in recent years, raising concerns about an overheated market.

In the first quarter this year housing prices jumped 15 per cent in Beijing and 35 per cent in Shenzhen, a booming city in Guangdong Province.

The latest moves, which also cover bank lending, are "the most detailed policies that the government has ever taken towards the housing market," said an executive with a Beijing-based property developer, who refused to be named,

"It may make life harder for the less competitive and smaller developers, but it will not have much impact on the strong and competitive ones," he added.

The statement also called for strengthened supervision on land used for housing developments.

A policy has been issued to require that developers of land slated for development be charged a high "idle land fee" if it remains unused for one year, while rights will be revoked if it remains unused for 2 years.

The State Council paper also asked local governments to make 70 per cent of its annual land supply available for the development of low-cost housing.

"The land supply policy may be the most effective way to rein in surging property prices," said DTZ's Wang.

"The land market should be better regulated. In some places, the land auction floor price offered by local governments is too high, which will inevitably push up prices," he said.