The death toll from the Indonesian earthquake has risen past 5,400 as hundreds of thousands of homeless survivors spent another night in the rain waiting for much-needed relief.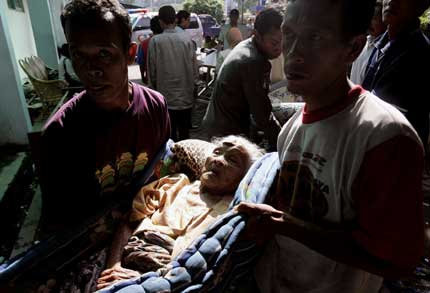 An earthquake victim is carried into a hospital in Yogyakarta, central Java, May 29, 2006. [Reuters]



Familes across the quake zone in central Java province huddled under rudimentary tents made of plastic sheeting and bamboo poles to escape the rain as United Nations agencies pledged to speed up the flow of aid.

In many cases, straw mats were the only protection from the increasingly damp ground.

Indonesia has been struggling to cope with the scale of the disaster. Aid slowly began to reach hard-hit areas on Monday, but President Susilo Bambang Yudhoyono said better coordination of aid efforts was vital.

International agencies and foreign governments have begun delivering tents and tarpaulins to those in need, but the Red Cross has estimated there are 200,000 homeless people and supplies are not yet sufficient.

The social affairs ministry said 5,427 were confirmed to have died in the 6.3 magnitude quake centred around the district of Bantul, south of the royal city of Yogyakarta. Many thousands more are injured.

UN emergency relief coordinator Jan Egeland, who helped oversee tsunami relief in Indonesia's Aceh province in 2004, said the effort should be quicker in reaching quake victims.

"This time I think it's going to be easier because Java is not as remote as Aceh," he told CNN.

"We are now able to help in a matter of hours after an earthquake strikes," Egeland said. "We are better coordinated now than ever before."

But even as rescue teams and aid workers fanned out across the quake zone, the injured were still spilling out of hospitals and power cuts hampered rescue work.

Desperate victims could be seen standing along the sides of roads, holding up pails and boxes to beg for money and waving signs asking for help. Many had written on their T-shirts: "Help Me."

Chinese Rescuers Arrive

China dispatched a 44-member rescue team and 5 tons of medical materials to Indonesia Monday.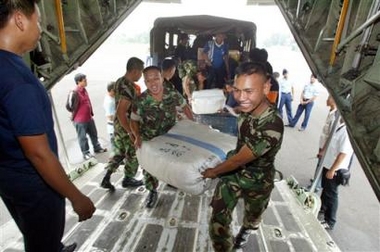 Military personnel load relief supplies for earthquake survivors in Java, onto a cargo plane in Jakarta, Indonesia, Monday, May 29, 2006. [AP]


The team, headed by China Seismological Bureau (CSB) deputy head Zhao Heping, was composed of rescuers, doctors and seismologists, according to a CSB statement.

A Chinese seismologist joining a five-member United Nations delegation to evaluate the disaster arrived in Indonesia prior to the rescue team's departure.

It is the fifth time China has sent a rescue team abroad to carry out international humanitarian aid since 2003. The first team was sent after an earthquake in Algeria in May 2003.

Also on Monday, the Red Cross Society of China (RCSC) donated US$50,000 to its Indonesian counterpart.

The Chinese Government earlier offered US$2 million to Indonesia and is considering providing more relief staff and materials for the affected area.

Two embassy officials have been sent to search for Chinese citizens in central Java, but there have been no reports of Chinese casualties, sources from the embassy in Jakarta said.