246 Chinese back home from E. Timor
Two chartered planes carrying a total of 246 Chinese from riot-torn East Timor arrived at the Gaoqi international airport of Xiamen, a coastal city in east China's Fujian Province Monday night.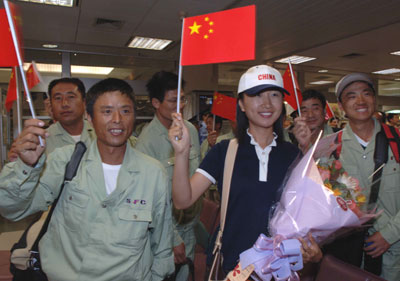 Shi Xiaoyu and 16 of her colleagues from the Shandong Foreign Trade Corporation arrive at Xiamen airport last night. They were among 246 Chinese who were evacuated from turmoil-plagued East Timor by two government planes. [newsphoto]


Officials with China's Foreign Ministry, Ministry of Public Security, Overseas Chinese Affairs Office of the State Council and the provincial and city governments greeted the evacuated Chinese at the airport.

The officials queued in a long line, shaking hands with the evacuees, who waved China's national flags as they got off the planes.

"I felt so relieved when seeing them back home safely," Zhu Taoying, deputy general director of the consulate department under the Foreign Ministry.

The evacuees, many of them serving as businessmen, engineers and workers in East Timor, were from a dozen provinces on the Chinese mainland as well as the Hong Kong and Macao Special Administrative Regions.

At the airport entrance, provincial officials were waiting for the evacuees, raising high plates with their names, and took them away for their hometown with buses.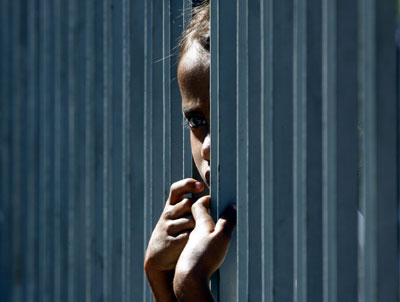 A Timorese girl looks out from the gates of her home in the East Timor capital of Dili May 29, 2006. East Timor's government met for crisis talks on Monday as foreign troops patrolled a tense but largely peaceful capital after a weekend of violence by gangs allied to feuding factions of the country's armed forces. [Reuters]


"I just left all my properties there and return by the chartered plane," said Wang Deren, a mid-aged man from Fujian Province who ran a grocery in East Timor.

Wang said he sought shelter in the Chinese embassy in East Timor after the riot broke out. "Almost all the Chinese in East Timor fled to the embassy and we made a big crowd there."

China's Foreign Ministry said on Saturday that nearly 200 Chinese citizens had sought shelter in the Chinese Embassy in East Timor, where they were offered tents, food, water, medicine and other living necessities.

The youngest evacuee was a three-month-old baby girl who returned in the arms of her uncle.

"Her parents chose to stay in East Timor taking care of their business. They asked me to bring my little niece back to China which they believe is the safest place under heaven," said the uncle.

The ministry said earlier that about 500 Chinese lived in East Timor, among whom about 200 had already left.

An official with the Foreign Ministry said China will continue to closely follow the situation in East Timor and make all efforts to ensure the safety of the Chinese, including Hong Kong, Macao and Taiwan compatriots, who chose to remain in the tiny country.

Among the evacuees, 61-year-old man surnamed Zhan was a Chinese-East Timorese. He was born in East Timor and currently serves as a member of East Timor's chamber of commerce.

Zhan said this was the first time he was in China. "I knew little about the People's Republic of China in the past. I didn't expect that I had the honor to take the Chinese government's chartered plane to leave the dangers in East Timor."

The Chinese government has agreed to help him go to Macao and stay there until peace is restored in East Timor, he added.

So far, there has been no report of Chinese citizens being injured or killed in the riot, according to the Foreign Ministry.

To better protect Chinese overseas, the Foreign Ministry on Monday set up a new section under its consular department to focus on providing protection and help to these people.

Violence took place in East Timor in late April after the East Timorese government decided to sack almost half of the country's soldiers, who protested against poor conditions and staged a strike.

The situation in East Timor deteriorated on Thursday when at least nine people were killed and 27 others wounded.

As a result of the turmoil at home, East Timor President Xanana Gusmao postponed his China visit, which was originally scheduled from May 29 to June 3.

Last month, China evacuated 325 Chinese nationals, including over 20 Hong Kong compatriots, from the unrest-hit Solomon Islands, which doesn't have diplomatic ties with China.

East Timor, which shares a land border with Indonesia's West Timor, is a former Portuguese colony. The country became the world's newest nation in May 2002.