Chinese to be evacuated from E. Timor
China will send a chartered plane to East Timor today to bring home its nationals and people of Chinese origin in the riot-hit country, the Foreign Ministry said yesterday.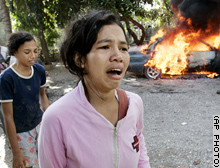 Frightened residents of Dili flee a fresh outbreak of violence on Saturday. [AP]

The government has been closely monitoring the situation in East Timor and is concerned over the safety of the Chinese there, the ministry said in a press release on its website late yesterday.

By Saturday, around 200 people had sought refuge at the Chinese Embassy, which provided them with accommodation, food and medicines, the release said.

Around 600 of the 1,400-strong Timorese army began the rebellion last month after they were dismissed for protesting over what they said was discrimination against soldiers from the west of the country. Most military leaders are said to come from the east.

The violence escalated last week, killing at least 27 people since then.

Gangs allied to feuding police or army units continued to rampage through the capital Dili yesterday, evading foreign peacekeeping troops and torching homes and vehicles.

According to the Chinese Foreign Ministry, about 500 Chinese people live in East Timor, and around 200 have already left. No Chinese have been reported to be killed or injured in the riots.

Australian troops, part of a 2,000-strong multinational deployment following the East Timor Government's appeal for help, stepped up patrols in the capital but still appeared to hold back from directly engaging the rampaging gangs.

They were backed by small patrols of Malaysian and New Zealand troops. The commander of the Australian troops said soldiers were concentrating on disarming factions of the military and gangs.

East Timorese Prime Minister Mari Alkatiri said on Saturday that it would take time for the Australians to restore order.

Last Thursday, Foreign Ministry spokesman Liu Jianchao announced at a regular news conference that East Timor President Xanana Gusmao had postponed his state visit to China due to the domestic situation.

Gusmao was originally scheduled to visit China from today to June 3 at the invitation of President Hu Jintao.

China understands the reason for the visit being postponed and hopes that stability is restored at an early date, Liu said, adding that Gusmao is welcome to visit at a time convenient for both countries.