Property tycoon is released from jail
(Shanghai Daily)
Updated: 2006-05-28 09:17
Shanghai property tycoon Zhou Zhengyi was released from prison yesterday after completing a three-year sentence for fraud and stock manipulation.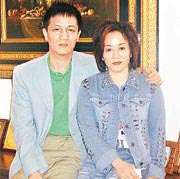 Zhou Zhengyi (L) and his wife Sandy Mo [baidu]

Zhou, 45, former president of the Shanghai-based property firm Nongkai Development Group, was charged in May 2003.

Also known as Chau Ching-ngai, he was convicted and sentenced by the Shanghai No. 1 Intermediate People's Court in June 2004 for falsifying registered capital reports and share price manipulation.

The court found he falsely reported the registered capital of his company when applying for registration.

He also rigged the stock prices of two of Nongkai subsidiaries that were both listed in Hong Kong.

The Shanghai Nongkai Development Group was ordered to pay 40 million yuan (US$4.82 million) in fines over the share price and false report charges.

Zhou is still wanted by Hong Kong's Independent Commission Against Corruption, which accuses him of rigging share prices to induce shareholders to accept a lower purchase price for a company Zhou was buying.

In January, Zhou's wife, Mo Yuk-ping, was sentenced to three and a half years in a Hong Kong prison in a fraud case involving her husband's property company.

Mo, the general manager of Shanghai Land Holdings Ltd, was convicted of two charges of conspiracy to defraud.

Zhou was ranked 11th in Forbes magazine's 2002 list of the 100 richest people on China's mainland with an estimated personal fortune of US$320 million.