China is unlikely to take part in an Asian security drill scheduled to begin off Shanghai on Saturday, the Japan Coast Guard said.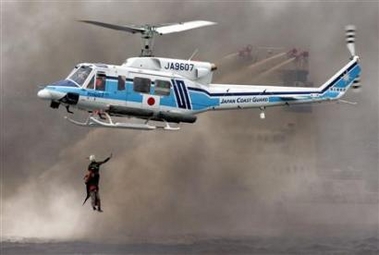 Japan Coast Guard (JCG) special rescue unit members hoist an imaginary castaway to a JCG helicopter as a JCG fire-fighting vessel sprays water to a mock burning boat during their annual fleet review and exercise demonstration at Tokyo Bay in Tokyo May 27, 2006. [AP]
China, the United States, South Korea, Canada and Russia are all scheduled to take part in the drill. The event would have been the first time China had participated in such a joint exercise.
"We are still hoping that the Chinese will take part, but the prospects are not good," said one Japan Coast Guard official.
Japanese coast guard officials co-ordinating the event have stressed that the exercise is not connected to the U.S.-led Proliferation Security Initiative (PSI) because no military forces are involved.
The drill scenario is based on a simulation of a suspicious ship being refused entry to the port of Shanghai and then being tracked by Chinese and other coast guard ships in turn.
The initial plan released by Japan's Coast Guard had referred to the ship being from a country suspected of exporting weapons of mass destruction. A revised scenario removed this reference and instead spoke of a "ship suspected of smuggling goods and people."
"This has absolutely nothing to do with weapons of mass destruction," the Japan Coast Guard official said. "It is a security drill, but somehow it seems to have been misunderstood."
Australia, Japan, Singapore, Thailand and New Zealand are the only Asia-Pacific region countries to publicly support the PSI, although the group says it has backing from more than 60 states.
China and South Korea have been reluctant to join the initiative, apparently to avoid offending North Korea, the nation with nuclear ambitions that are the subject of stalled six-party talks.
The U.S. Coast Guard ship Sequoia acting as the "suspicious" vessel failed to leave Shanghai as scheduled at 1 p.m., the Japan Coast Guard official said, adding that the reasons for the delay were not clear.
"We want to watch out for the Sequoia's departure. If the Chinese do not join at that point, then we will know for sure they are not taking part," he said.
The joint exercises will take place in the East China Sea, where Japan and China are in dispute over gas fields and sovereignty over a group of small islands.
The drill is likely to proceed even if China does not take part, the Japan Coast Guard said.