Rescue workers dug desperately for survivors on Sunday and hospitals struggled to cope with the thousands of injured, a day after an earthquake killed more than 4,600 people on Indonesia's Java island.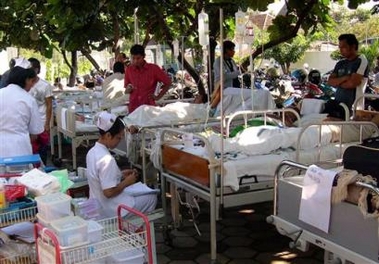 Victims are treated outside a hospital after a strong earthquake in Yogyakarta, Central Java, Indonesia, Saturday, May 27, 2006. A powerful earthquake rocked Indonesia's Central Java province early Saturday, flattening buildings and killing at least 4, 600 people, hospitals and officials said. [AP]



Up to 20,000 had been injured and more than 100,000 have been left homeless, UNICEF (the U.N. Children's Fund) spokesman John Budd told Reuters, but he said figures were still sketchy.

"Nobody really knows for sure simply because a lot of people were actually evacuated out ... in order to be treated and a lot of people who are injured have been turned away," Budd said.

Trucks full of volunteers from Indonesian political parties and Islamic groups, as well as military vehicles carrying soldiers, headed south from the ancient royal city of Yogyakarta to Bantul, hardest hit by the quake, to help in the effort.

"Kopassus (special forces troops) and Indonesian Red Cross volunteers are trying to comb through rubble because thousands of houses are damaged and people may still be trapped beneath them," Ghozali Situmorang, director general of aid management for the national social department, told Yogyakarta radio.

Medical supplies and body bags were arriving at the airport of Yogyakarta, about 25 km (16 miles) from the Indian Ocean coast where Saturday's 6.3 magnitude quake was centered just offshore.

A vulcanologist said the quake had heightened volcanic activity at nearby Mount Merapi, a volcano experts believe may be about to erupt. Merapi has been rumbling for weeks and sporadically emitting hot lava and highly toxic hot gas.

The official death toll jumped to 4,611 on Sunday night, said the Social Affairs Ministry's disaster task force.

In the Bantul area, which accounted for more than 2,000 of the deaths and where most buildings were flattened, makeshift plastic tents dotted the roads.

In the afternoon heat Sugiyo picked through the remnants of his brick home. He had been trapped with his family before being rescued by other village residents. His mother was killed.

"I found my motorcycle but it was destroyed, then I found the cupboard but it was broken too," said Sugiyo.

But his face lit up as he spotted a pink box containing diapers and baby clothes. "This is for my 2-year-old daughter," he said holding the box tightly in his arms.

Throughout the disaster-struck region, authorities struggled to deliver aid.

"The problem now is that we are still short of tents, many people are still living on the streets or open areas," said Suseno, a field officer of the Yogyakarta disaster task force.

Clean water was another problem, officials said. In Bantul all 12 water distribution systems had been either knocked out completely or were not working properly, UNICEF'S Budd said.