SHANGHAI, China - Bank of China's $9.7 billion initial public offering, the latest in Beijing's parade of attractions, has drawn keen interest among stock market investors hoping to buy into China's rip-roaring growth.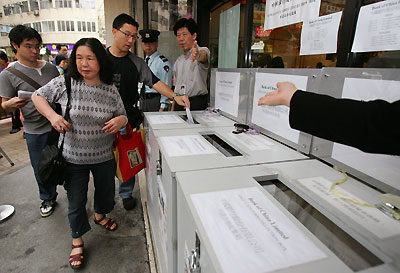 Investors put application forms into the collection box for the initial public offering of Bank of China before the deadline in Hong Kong May 23, 2006. Bank of China is expected to price its IPO, worth up to $9.8 billion, at or near the top of its indicated range, but turbulent global markets could have curbed retail oversubscription levels. [Reuters]


The IPO, the world's biggest in six years, brings to the international market China's second largest and its oldest bank, and one that like its peers is still contending with a legacy of lending scandals.

With shares representing a 10.5 percent stake in the company priced at 2.95 Hong Kong dollars (38 cents) each, Bank of China has an initial market capitalization of about 750 billion Hong Kong dollars ($96 billion). That ranks between Germany's Deutsche Bank AG and Switzerland's UBS AG but well behind the U.S. banking companies Citigroup Inc. and Bank of America Corp.

The bank's shares begin trading June 1 in Hong Kong. So far, response has been enthusiastic despite recent declines in Hong Kong's benchmark Hang Seng Index. There were more offers to buy shares than shares available and the IPO has attracted strong support from major international investors such as Hong Kong tycoon Li Ka-shing's Cheung Kong Holdings, Japan's Bank of Tokyo-Mitsubishi UFJ Ltd. and Saudi Prince Alwaleed's company Al Azizia Commercial Investment Co.

Long lines formed on Hong Kong sidewalks after the bank began offering local investors 1.28 billion shares in the IPO.

Founded in 1912, Bank of China is the country's most international lender, with branches in 25 countries. Its Hong Kong unit, BOC Hong Kong (Holdings) issues currency in the territory and contributes nearly a quarter of the parent bank's profit.

The bank's 4.7 trillion yuan ($586 billion) in assets makes it China's second biggest after the Industrial and Commercial Bank of China, which plans an IPO later this year. ICBC has assets worth more than 6 trillion yuan ($750 billion).

Its balance sheet is relatively clean following a restructuring and a $22.5 billion government bailout. But it has yet to prove it will be able to keep problem loans at bay, given its history of lending scandals, says Wei Yen, China banking analyst at Moody's Investors Service.

"The bank has been cleaned up, but nothing has given us confidence that they can maintain their asset quality," he says. "Right now, we are in a wait and see position."

Bank of China's ratio of nonperforming loans to total lending is reported at 4.4 percent in mid-2005, down from more than 33 percent in 2003, though the China Banking Regulatory Commission and other industry experts, have warned repeatedly that all lenders risk a rebound in bad debt if they don't improve controls over branch management ¡ª where most of the problems occur.