US askes Taiwan to end trade limits
(AP)
Updated: 2006-05-27 11:08
TAIPEI - The deputy U.S. trade representative on Friday called on Taiwan to lift its restrictions on trade with Chinese mainland, saying the island was putting its own businesses at a disadvantage.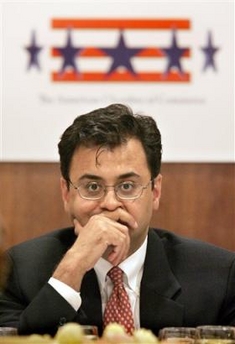 Deputy U.S. Trade Representative Karan Bhatia pauses before addressing members of the American Chamber of Commerce during a luncheon, Friday, May 26, 2006, in Taipei, Taiwan. [AP]

Karan Bhatia, the highest ranking American official to visit Taiwan in six years, arrived Wednesday for two days of talks with local officials on trade issues including pharmaceuticals, intellectual property rights, agriculture and telecommunications.

Earlier Friday, he rejected an appeal from "President" Chen Shui-bian to begin negotiations on a free trade agreement between Washington and the island, saying congressional restrictions prevented the administration from beginning a new round of FTA talks.

Speaking to the American Chamber of Commerce in Taipei on the question of cross Strait trade ties, Bhatia said that Taiwanese restrictions on economic exchanges with the mainland were harming its own economy.

While economic exchanges between the sides resumed in the early 1990s, Chen's independence leaning government has resisted tightening links.

In his remarks to the American chamber, Bhatia specifically criticized Taiwan's restrictions on technology transfers and investment in mainland, travel to Taiwan by mainland employees of multinational firms, and the absence of direct transportation links between the two sides.

The restrictions "combine to create uncertainty as well as a distinctive competitive disadvantage for Taiwan," he said, adding that they deter multinational companies from investing on the island.

Bhatia also poured cold water on the idea of negotiations on a free trade agreement between Taiwan and the United States, which Chen brought up during their meeting earlier in the day.