A shortage of workers pushed up the average wage last year by nearly 15 per cent, according to the latest report by the People's Bank of China (PBOC), the central bank.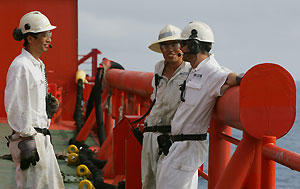 Chinese workers chat on the deck of Bluewater's floating production, storage and offloading (FPSO) vessel Munin, which floats on the Lufeng oil field, 250 kilometers south-east of Hong Kong in the South China Sea, in 333 meters of water, May 23, 2006. [Reuters]

Some researchers also attribute the rise to tougher competition for workers between domestic and foreign companies.

The PBOC report, released on Friday, showed an annualized increase of 14.8 per cent in the nation's general wage level in 2005.

Urban workers earned on average 18,400 yuan (US$2,300) in 2005, as compared to 16,024 yuan (US$2,003) in the previous year, an increase of more than 14 per cent.

Central China saw the highest growth rate at around 18 per cent, although wages in the region are traditionally lower than most other places. The region's average wage was 14,800 yuan (US$1,850) in 2005.

In contrast, workers in more developed eastern regions earned an average of 22,400 yuan (US$2,800), higher than any other region on the Chinese mainland in 2005, although the growth rate was 12.3 per cent.

Salaries in western and northeastern parts of the country were 15,700 yuan (US$1,960) and 15,600 yuan (US$1,950) respectively.

However, researchers found wage increases occurred mainly in the State sector and in foreign companies, while in the private sector wage rises were not widespread.

"Employees of central government institutions received the biggest wage increase, by up to 20 per cent," said Liu Junsheng, a researcher with the Labour-Wage Institute under the Ministry of Labour and Social Security.

"The growth rate there was even higher than in foreign companies," he added.