Erotic exhibition outrages viewers
By Echo Shan (chinadaily.com.cn)
Updated: 2006-05-26 11:13
The recent art exhibition "Experimental Space" in Nanjing pushed the bottom line of art with exhibits depicting human genitals and sex.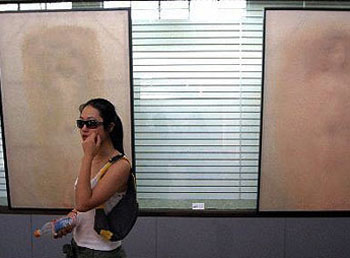 Pony-tailed 22-year-old Chengdu Art Academy sophomore, Wang Guiquan, appears at the art exhibition ""Experimental Space" at the Nanjing Museum on May 22, 2006. [newsphoto]


A series of close-ups of the female reproductive organs from different angles stole the show as the most bold and avant-garde.

The hard-core snapshots are mirror reflections of the artist's body, and have provoked jitters from viewers.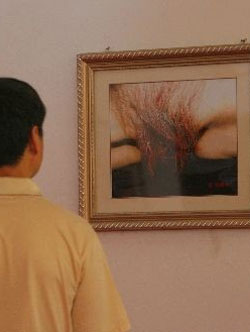 A male visitor looks at Wang Guiquan's close-up of her reproductive organ at the art exhibition on May 22, 2006. [newsphoto]

Pony-tailed 22-year-old Chengdu Art Academy sophomore, Wang Guiquan, smiled and explained her shocking work, saying, "Actually, it's very simple. At first, I only wanted to see what I really look like in the mirror."

Her photographs drew harsh criticisms and she had tears in her eyes on May, 22, the second day of the show, while others offered sincere support.

But when asked by a local reporter if she was touched by people's good will and cried, the unsophisticated girl said, "I didn't cry."

"She couldn't take the critical voices accusing her of seeking fame, hyping her work and being too erotic. It was normal for her to burst into tears," said the reporter.

Unsurprisingly there were opposing views of this kind of unconventional show. Notably, visitors in their 20s and 30s condemned the exhibition most.

"The brazen exhibits just make me blush and feel sick," said a twenty something woman, adding, "I'm not old-fashioned but these soulless and erotic things are really unbearable."

Wang Chengyun, Chengdu Art Academy instructor and the organizer of the visual stunt, claims the show is creative and spirited, "Human reproductive organs have long been kept out of sight like skeletons in a cupboard. This makes people uneasy and leads them to believe the human body is too dirty to display. "

Wang assembled the works of more than 20 of his students for the exhibition at the Nanjing Museum.