China's banking regulatory body has urged commercial banks to take measures to curb the increasing level of lending in the real estate sector.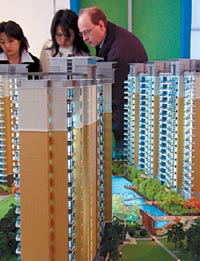 A foreigner looks at models of residential buildings at a property company's sales office in Shanghai. In China's richest city, the foreigners live in the inner ring, outsiders in the next and natives in the outermost. [China Daily]

China needs to significantly increase down payments for mortgages on expensive homes and investment properties as part of measures to rein in bank lending, according to Liu Mingkang, chairman of China Banking Regulatory Commission (CBRC).

"Commercial banks need to keep a close watch on borrowers' repayment ability and their credit status."

Liu made the statement at a meeting on Wednesday with China's major commercial banks. The statement was posted on the commission's website Thursday.

"Banks should greatly promote loans for first-time home owners, but stop granting mortgages for anyone other than the home owner.

"It should significantly increase down payments for those buying anything more than their first home and for expensive properties, villas, commercial properties and other speculative purchases," the statement said.

But CBRC did not specify by how much down payments should be raised.

Property prices in 70 large- and medium-sized Chinese cities witnessed an average 5.5 per cent increase in the first quarter from the same period in 2005, according to the National Bureau of Statistics.

The CBRC said it would take a targeted approach to controlling lending by placing stricter requirements on banks that had capital adequacy ratios of less than 8 per cent.

It would encourage certain types of property lending, while restricting others.

As well as targeting property lending, the commission said it was asking banks to stop arranging set quotas of loans with local and provincial governments - a major source of lending since the start of the year.

Much of the money has gone into fixed investment in property and other assets.

The CBRC's move was seen as an attempt to keep China's rapid growing economy from overheating.

Last month the central bank raised the one-year benchmark lending rate by 27 base points to 5.85 per cent in a bid to curb credit and investment growth.

China reported total loans of 20.6 trillion yuan (US$2.575 trillion), up 14.7 per cent over the previous year, at the end of the first quarter.

The central bank recently denied reports that it was considering increasing down payment to 50 per cent from 20 per cent.

Liu's comments follow a six-point directive issued by the State Council last week requiring government agencies to rein in what many have called runaway property price increases in some cities.

An executive meeting of the State Council chaired by Premier Wen Jiabao vowed to take necessary measures to improve the property market and curb rapid price rises in major cities.