A man in central China hacked a neighbor to death and then took 19 primary school students hostage, killing one, before police shot at and subdued him, officials announced Thursday.
The incident on Wednesday was the second shocking act of violence in Henan Province after a young man set fire to a preschool classroom, killing 10 children, in Gongyi City earlier this month.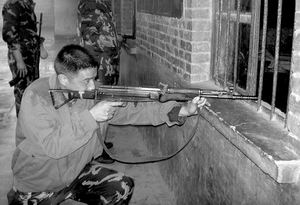 A policeman quietly takes aim at Yang Xinlong, who hacked a neighbor to death and then took 19 primary school students hostage in Gongyi, central China's Henan Province Wednesday. He killed one of the children before the policemen shot at and subdued him. [Dahe Daily]
The latest case occurred about 11am on Wednesday. Farmer Yang Xinlong allegedly killed a neighbor and injured another one following an argument in Luoying Village of Dengzhou City, according to the Public Security Bureau of Nanyang. Dengzhou, on the southwest tip of Henan, is under the jurisdiction of Nanyang.
Yang then broke into the Luoying Primary School and held 19 children captive, officials said. Yang stabbed one of the hostages to death.
More than 60 policemen rushed to the scene.
Officers attempted to persuade Yang to free the children for hours but he refused. At 2:30pm, officers fired at him, subduing the wounded suspect and rescuing the 18 children.
On May 8, an introverted young man in Henan's Gongyi City poured gas in a classroom and ignited it to vent his anger after a dispute with local villagers.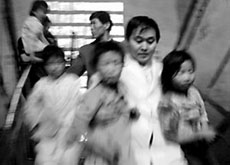 Medical workers help the hostages out of the classroom after the drama. [Dahe Daily]

The fire killed 10 children and left seven others injured, including a female teacher.

The suspect, Bai Ningyang, 19, was caught the next day.

Bai had quarreled with a villager who stopped him using a newly paved road in the village on May 6, according to Life Week magazine.

Later in the day, Bai reportedly chased the farmer around the village, wielding two knives.

When Bai's father tried to stop the chase and punish him, Bai held a 5-year-old boy hostage at knifepoint. The boy freed himself, and Bai also fled from his father.