China to promote currency reform
(Reuters)
Updated: 2006-05-24 19:27
China's central bank has asserted anew its commitment to push for a more flexible yuan as it seeks to remedy shortcomings in its financial markets.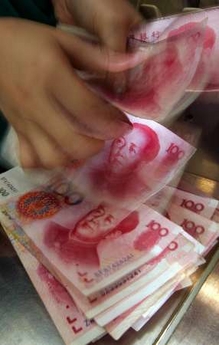 An exchange store staff counts Chinese RMB banknotes in Hong Kong May 16, 2006. [Reuters]
In its 2005 report taking stock of the country's financial reforms, the People's Bank of China said liberalization of its exchange rate regime would continue to be a key policy focus.
"We will push forward reform of the foreign exchange management system and perfect the formation mechanism of the yuan's foreign exchange rate," the central bank said.
It also said it would push ahead with efforts to liberalize interest rates and seek to create new financial products, while continuing reform of state-owned commercial banks.
The bank said it would seek to maintain stable credit growth and improve the effectiveness of monetary policy in steering the economy.
The central bank pointed to a set of "significant" problems remaining in the financial sector, including companies' over-reliance on bank loans for funding, which it said compounded the risks of bad loans for the country's banks.
To promote more efficient allocation of capital, it said it would encourage greater interaction among the banking and insurance sectors and capital markets, while taking account of the risks of allowing greater cross-sector dealings.
"We aim to build up and improve the sound coordination and development among the money market, capital markets, and insurance sector to further let the financial market play a fundamental role in allocating financial resources," it said.