DOHA -- Chinese Foreign Minister Li Zhaoxing on Tuesday urged the Japanese government to remove political obstacle to improving and developing bilateral ties.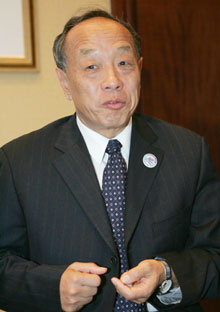 Chinese Foreign Minister Li Zhaoxing attends a meeting with Qatar's First Deputy Minister of Foreign Affairs Sheikh Hamad Bin Jassim Al-Thani during the 5th Asia Cooperation Dialogue Ministerial Meeting in Doha, Qatar May 23, 2006. [Reuters]

During a meeting with his Japanese counterpart Taro Aso, Li said that a correct understanding and treatment of the unfortunate period of the history constitutes an important political basis for restoration and development of post-war bilateral ties.

He stressed that Japanese leaders' insistence on paying homage at the Yasukuni Shrine that honors convicted Japanese war criminals severely hurts the Chinese people's feeling and harms political basis for bilateral ties.

"It is imperative to remove such an obstacle to improving and developing bilateral ties," Li said.

The meeting was held on the sidelines of the fifth ministerial meeting of the Asia Cooperation Dialogue in the Qatari capital of Doha, which opened on Tuesday and will end on Wednesday.

Li said that the Chinese government has attached great importance to developing Sino-Japanese friendship and is ready to promote good-neighborly and cooperative ties with Japan based on drawing on lessons from the history and looking to the future.

Recalling that Chinese President Hu Jintao expounded the Chinese government's policies on cherishing and developing bilateral relations in a meeting with a group of Japanese guests representing seven associations for Japanese-Chinese friendship on March 31, Li said that at present, Sino-Japanese political ties are facing serious difficulties, which is not in the interests of the peoples of the two countries nor in line with aspirations of the international community.

The Chinese side is willing to work with the Japanese side to bring bilateral ties back on track, Li said.

For his part, Aso said that Japan pays close attention to its ties with China and welcomes China's peaceful development and hopes to develop bilateral ties based on three political documents guiding bilateral ties.

On the Taiwan issue, he said that the Japanese government will continue to observe the one-China principle.

He said that the Japanese government mulled President Hu's March 31 remarks and hopes that the two sides will grasp real meanings of the remarks to engage in more dialogues and exchanges and enhance mutual understanding in order to improve and develop bilateral ties.

During the meeting, the two sides agreed that Sino-Japanese ties are one of the most important bilateral relationships for both sides.

The two ministers also agreed that it is important to strengthen strategic dialogue between the two countries and to work together to remove political barrier and to deepen economic and trade cooperation and to initiate cooperation in the areas of energy saving and environmental protection and to expand shared interests.

They agreed that it is important to promote people-to-people exchanges, especially among young people, and to continue to engage in security dialogue at deputy ministerial-level and military exchanges.