Fuel price rises by about 10%
(China Daily)
Updated: 2006-05-24 06:32
China has raised the price of gasoline, diesel and aviation fuel by about 10 per cent, or 500 yuan (US$62.4) per tonne, as of Wednesday, sources with the State Development and Reform Commission said.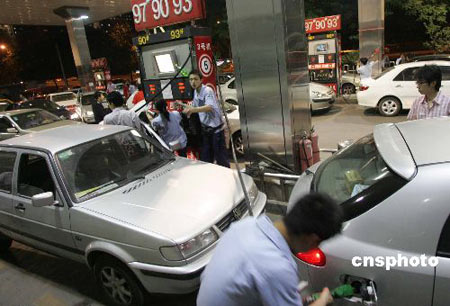 Vehicles are lined up to be fueled at a gas station in Beijing on the night of May 23, 2006. Most gas stations in the city were flooded with cars as news went out that fuel price was to be increased. [cnsphoto]
An official with the commission said last night it had decided to increase fuel prices as China's current prices are far below those of the international market, which has damaged Chinese oil refineries' profits.
He added that the soaring price of crude oil on the international market had been above US$70 per barrel for days.
The commission has asked all local governments to strictly implement a series of subsidy policies after the fuel price rise and take measures to protect taxi drivers' incomes.
It also asked the two national oil suppliers China National Petroleum Corporation (CNPC) and China Petroleum and Chemical Corporation (Sinopec) to increase the supply of processed oil to meet market demands.
This is "the largest adjustment since 2003," according to an Interfax report.
The last oil price adjustment came on March 26, when gasoline and diesel retail prices rose by 250 yuan (US$31.25) and 150 yuan (US$18.75) per tonne.
Compensation measures were issued for transport and agricultural industries on March 26, and were believed to pave the way for further oil price hikes.
After the latest rise domestic fuel prices will still be around 800 yuan (US$100) per tonne less than on the international market, according to Gordon Kwan, director of China Oil and Gas Research with Hong Kong-based CLSA brokerage.
Since January 2003, China's benchmark 90-octane retail gasoline guide price has risen by 56 per cent and its diesel fuel price has risen by 50 per cent.
In the same period international crude oil prices have doubled.