China, Japan FMs to meet in Doha
(chinadaily.com.cn/agencies)
Updated: 2006-05-23 11:01
The foreign ministers of China and Japan will meet on the sidelines of an Asian forum opening in Doha on Tuesday, said Chinese Foreign Ministry spokesman Liu Jianchao in Beijing on Tuesday.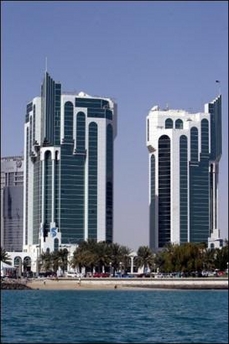 Doha's coastal strip on the Gulf. The foreign ministers of China and Japan, whose relations have deteriorated in recent months, will meet on the sidelines of the 28-nation Asia Cooperation Dialogue forum opening in Doha, a Qatari official has said. [AFP]

Foreign Ministers Li Zhaoxing of China and Taro Aso of Japan are to meet later Tuesday at an Asian economic conference in Doha, Qatar, Liu said.

"The visit by Japanese leaders to Yasukuni shrine is the main crux of the difficulties in Japan-China relations. Definitely this issue will be discussed," Liu said in Beijing.

Critics consider the Yasukuni Shrine a glorification of Japan's wartime conquests of East Asia, and see Prime Minister Junichiro Koizumi's repeated visits as showing approval of that stance.

China has repeatedly demanded that Koizumi abandon further visits to the shrine as a condition for better ties.

Koizumi argued repeatedly that he goes to Yasukuni to pray for peace and that the visits are an internal Japanese matter. The shrine commemorates Japan's war dead, including executed war criminals.

U.N. Secretary-General Kofi Annan said last week in Tokyo that visiting the shrine "has not helped" efforts to improve relations between Tokyo and its neighbors.

"It has created some tensions in the region which I think we need to make some gestures to put behind us," he said.

Annan wouldn't say, however, what kind of gestures he had in mind or who should make them.

Foreign ministers from the 28-nation Asia Cooperation Dialogue "discuss matters totally unrelated to any contentious issues" in plenary sessions, Qatari foreign ministry official Abdulrahman al-Khulaifi told reporters late Monday.

"But bilateral meetings are held (during) the presence of the Asian foreign ministers in the host country. For instance, the foreign minister of Japan and the foreign minister of China will meet in Doha for the first time," he said.

Japan has been pushing for a meeting with China, which would be the first between the Asian powers' foreign ministers in a year and the first since the hawkish Taro Aso was appointed in October.

Energy reserves are among a number of issues that have damaged relations between the two Asian powers, which are also divided over wartime history.

Japan and China failed last week to make a breakthrough during a fifth round of talks on disputed gas and oil fields in the East China Sea.