When the Chinese premier, a keen soccer fan, met the chancellor of Germany, which hosts the World Cup in less than three weeks, it was no surprise that football kept popping up.
"China has a massive number of football fans who will stay up to watch the matches (with the six-hour time difference), and I'm one of them," Premier Wen Jiabao said at a joint conference with German Chancellor Angela Merkel at the Great Hall of the People in Beijing yesterday.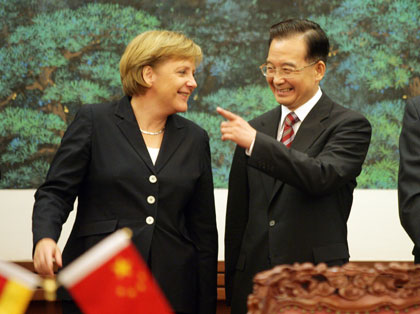 Chinese Premier Wen Jiabao (R) gestures as he talks with German Chancellor Angela Merkel at the signing ceremony of China-Germany agreements in Beijing May 22, 2006. [newsphoto]


He congratulated Merkel on her country staging the month-long gala and wished Germany "good luck" in the matches; and Merkel said she is confident the quadrennial tournament would be a success.

Wen, who earlier met the visiting United Nations Secretary-General Kofi Annan, conveyed the latter's desire to watch the opening ceremony and some matches, including the final.

Merkel replied that she had talked football with Annan, a native of Ghana. "I teased him: 'Do you predict the Ghanaian team will make the finals?' and he answered: 'Let's wait and see'."

Later, speaking to entrepreneurs at the China-Germany High-Tech Dialogue Forum, Wen said he hoped the teams in the World Cup could play like Franz Beckenbauer, the cool-headed star in the German World Cup teams in 1966, 1970 and 1974.

"Beckenbauer always found himself in the right position on the field," Wen said. "I hope German enterprises can find their niche amid fierce international competition."

Merkel's visit got off to a relaxed start with a walk in a park with Wen yesterday.

After arriving in Beijing late on Sunday, she was up with the birds to saunter with Wen in Changpuhe Park, stopping to chat with locals doing taijiquan morning exercises.

She tried her hand balancing a ball on a racket but declined to kick an over-sized shuttlecock, another popular pastime with the elderly, even after Wen had shown her how.

The two chatted on an ornate bridge and shook hands for the press before heading into meetings presumably to talk about things other than football.