China "positive" on maglev co-op with Germany: Premier
(Xinhua)
Updated: 2006-05-22 21:58
Chinese Premier Wen Jiabao said Monday that his government is "positive" in continuing cooperation with Germany on magnetic levitation (maglev) railway development.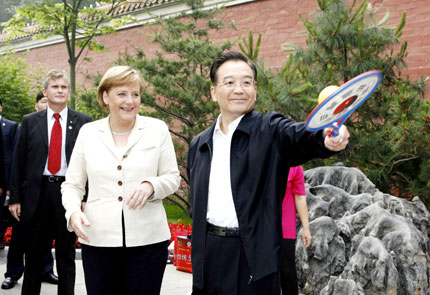 Chinese Premier Wen Jiabao demonstrates the way to play a ball as visiting German Chancellor Angela Merkel looks on in a park in Beijing May 22, 2006. Wen accompanied Merkel for a morning exercise walk in a Beijing park. Merkel arrived in Beijing last night for a two-day official visit. [Xinhua]
"The cooperation between China and Germany on maglev railways has been fruitful," Wen said when asked why his talks with German Chancellor Angela Merkel failed to yield a new contract.
China and Germany have already built a 30-kilometer maglev line in Shanghai.
Wen said China was undertaking a feasibility study on a 175-kilometer line between Shanghai and Zhejiang Province.
"Considering the huge investment, thorough research should be done in order to make a scientific decision," Wen said. "But I can make quite clear that China has a positive attitude to cooperation with Germany."
The premier said China hoped to introduce Germany's advanced technology. "Meanwhile, we will also make solemn commitment that we protect intellectual property."
On Tuesday, Merkel is scheduled to ride the world's only commercially operating maglev line, built by a German consortium that included Thyssenkrupp AG and Siemens AG.
Merkel, who is paying her first visit to China since taking office, said she was looking forward to Tuesday's maglev ride and was confident of the result of the feasibility study on the 175-kilometer line.
"With such good technology, even 200 kilometers wouldn't be too long," she said.
Merkel is expected to leave China Tuesday afternoon.