Typhoon Chanchu has killed at least 37 Vietnamese fishermen in the South China Sea but Chinese rescue ships have saved 330 sailors, according to the China Maritime Search and Rescue Centre.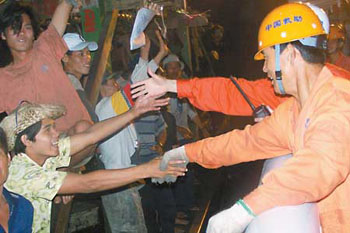 Vietnamese fishermen are overjoyed to see the arrival of Chinese rescuers in the South China Sea on Saturday. Chinese rescue teams saved at least 330 Vietnamese fishermen from the fury of Typhoon Chanchu over the weekend the largest number of foreigners rescued by China's maritime officials. [Xinhua]



The Chinese vessels had picked up the crews of 22 ships, giving them water, food and fuel, and salvaged 21 bodies in "the largest international rescue operation at sea ever conducted by China," the centre said.

In Vietnam's central city of Danang, the port where many of the ships came from, anguished relatives crowded outside state offices for news on the more than 230 sailors listed as missing.

"We still don't know who survived," Le Minh A, deputy chairman of the Quang Nam province people's committee, told an emergency meeting. "Local people are in real panic."

Deputy Fisheries Minister Nguyen Viet Thang said: "This is a big loss for the fishermen, and for Vietnam's fishing industry. We are making the greatest efforts to deal with the dead and the survivors."

Two Vietnamese naval vessels left Danang Sunday to meet storm-battered fishing vessels limping back toward the coast, carrying survivors and at least 18 bodies.

Police would take photographs and DNA samples before releasing the bodies to relatives, said officials.

With the 37 reported Vietnamese deaths, the strongest typhoon recorded for the month of May has claimed more than 100 lives, having also killed 23 people in China and 41 in the Philippines.

"We are very sad, the loss is huge," said Major Tran Hoa of the Danang Border Command.

The typhoon surprised scores of Vietnamese vessels, some as far as 1,000 kilometres (600 miles) from home, mid-week when it changed course and hit them with lashing rains and churning seas, also cutting radio contact.

Up to 17 boats sank, according to Vietnamese state radio. However, there was much confusion between reports from different national and provincial state agencies on the number of ships and crew affected.

"The information is very inconsistent," said Thang. "We have to avoid causing more panic among the people."

Most sailors were from Danang and nearby Quang Nam and Quang Ngai provinces.

"We are waiting for news every minute," said Vo Huu Son, 55, whose son, three younger brothers and nephew were missing.

"We really want them to return home safe. We don't know what to do -- we just wait and wait, expecting more news from radio and TV. We pin our hope on the authorities and China to help our fishermen."

China's Xinhua news agency said Beijing had dispatched rescue ships Friday, responding to a call for help from Hanoi.

They found the 22 Vietnamese boats over the weekend around the tiny Dongsha island, a horseshoe-shaped atoll less than three kilometres long, about 310 kilometres (170 nautical miles, 195 miles) southeast of Hong Kong.

The excited survivors stammered thanks in Cantonese and raised signs thanking their rescuers, said Xinhua report.

Vietnam's Deputy Foreign Minister Le Cong Phung thanked the Chinese ambassador for Beijing's "precious support" and said Chinese ships would be free to dock at Vietnamese ports during the operation.