As many as 57 coal miners were feared trapped in a flooded pit in northern China and several managerial staff were arrested for trying to cover up the disaster, state media said.
Initial reports said that 44 miners were trapped when the Xinjing mine in Shanxi province flooded on Thursday night.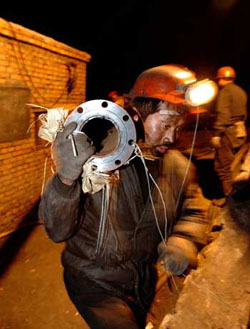 Rescuers install steel pipes to pump water out of the flooded shaft of a coal mine in order to rescue at least 57 trapped underground in Zuoyun county, Shanxi Province May 20, 2006. A total of 158 miners were working underground when the flooding accident took place on Thursday night, and 101 managed to escape, rescuers said. [Xinhua]
But rescuers told Xinhua late Sunday that after speaking with the miners' families the number of missing workers had risen to 57.
The management of the mine initially said only five were missing, Xinhua said.
"In this sense, the actual situation of the accident was covered up," it quoted Gong Anku, head of the Shanxi Provincial Bureau of Work Safety, as saying.
Managerial staff tried to ship out relatives of the trapped miners in rented taxis, hoping to send them to the nearby region of Inner Mongolia to prevent them talking to media or rioting, it said.
Police detained nine managers, while the owner of the mine went into hiding, Xinhua said, adding that as of late Sunday it was not known whether the miners were dead or alive.
The flood is believed to be the biggest catastrophe so far this year for China's disaster-plagued mining industry, which claims thousands of lives annually.
At the time of the accident, at 8:30 pm on Thursday, 158 miners were thought to have been working underground, 101 of whom escaped.
However national TV news reports warned earlier that the number of missing miners may be even higher because disorderly mine-management meant it was unclear how many people were in the mine.
And yesterday Li Yizhong, director of the State Administration of Work Safety, who arrived at the mine on Saturday, called for strengthened efforts to find a correct figure for the number of trapped miners.
The mine is thought to have been operating at more than 10 times its licensed output level, digging as much coal in one month as it was supposed to produce in a year.
"The pit has been mined exceeding its capacity," confirmed Li.
Coal mine accidents usually result from fires, floods and explosions, and are often blamed on indifference to safety rules and lack of required equipment.
Safety drives have been complicated by soaring coal prices caused by the nation's booming economic expansion, which encourages local officials to overlook violations in order to maximize revenues.
However iron-handed measures have at last started to take affect with 1,154 coalminers killed in accidents between January and April this year about 500 less than in the same period last year.
This is not the first time mine authorities have tried to cover up accidents.
In other places managers have used similar tactics, sometimes effectively detaining miners' families in a bid to force them to accept financial settlements and promise to keep quiet.