Office worker Carol Au scurried out of the Bank of China's dazzling skyscraper in central Hong Kong with a subscription form to buy shares in the bank's US$9.9 billion (euro7.75 billion) initial public offering -- which could wind up being the world's biggest IPO in six years.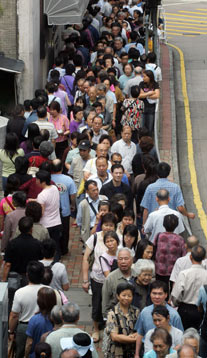 Local residents queue to take prospectuses for the initial public offering of Bank of China in Hong Kong May 18, 2006. [Reuters]

The 28-year-old was like hundreds of thousands of other Hong Kongers who flocked to bank branches during the past week to pick up forms for the June 1 listing on Hong Kong's stock market. They are ready to bet that the No. 2 bank in China's booming economy will be a great investment.

But Au was also aware of the risk of the investment.

"I'll just be buying a little bit at first so it's not too risky," Au said as she rushed off to work clutching the bank's prospectus, as thick as a big city's telephone book.

One of the factors feeding the frenzy for Bank of China shares is the remarkable success of two other big Chinese lenders that had IPOs in Hong Kong last year.

The share price for China Construction Bank, the nation's No. 4 lender, has shot up 50 percent since its IPO in late October. Bank of Communications, the fifth-largest, has nearly doubled since it hit the market in June.

Agnes Deng, investment director at Standard Life Investments in Hong Kong, said the banks look like a good long-term investment.

"Bank of China will benefit from financial reform in China and will benefit from the consumer loan growth as well as benefit from a lot of the foreign investment coming into China," she said.

Launching IPOs for state-owned banks in overseas capital markets is key to China's plan to reform its financial system. For decades, the big banks have been plagued with poor governance and bad loans to clunky state-owned enterprises.

To prepare the lender for its IPO, the government pumped US$22.5 billion (euro17.6 billion) into the bank to clean up bad loans. The bailout reduced the bank's non-performing-loan ratio to 4.4 percent in mid-2005, from 33.41 percent in 2003, Fitch Ratings said.

At a recent news conference that served as a big pitch for the IPO, the bank's leaders briefly acknowledged that the institution has had troubles. But they said the bank's history, mammoth size and reform efforts gave it the brightest future.

"Bank of China has gone through a lot in the past few years. I would just describe our current IPO process as being at the right place at the right time," chairman Xiao Gang said at a video conference in which his image was projected on a huge white map of the world.

The bank is China's oldest, founded in 1912. The bank's Hong Kong skyscraper -- designed by world renowned architect I.M. Pei, whose father worked for the bank -- is one of the world's most stunning buildings, with its diagonal cross braces, triangular shapes and glass roofs.

Li Lihui, the bank's chief executive officer, told reporters in Hong Kong that the lender was the leader in many of the fastest-growing businesses.

"Over the past two years, we accounted for approximately one-third of the new mortgage loans. We were the first and are the largest credit card issuer with a market share of 24 percent," Li added.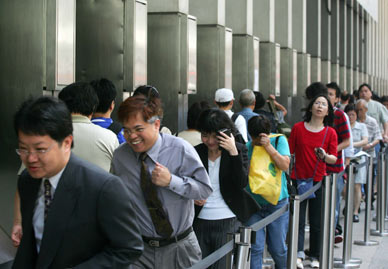 Residents line up to take a copy of the prospectus for the initial public offering of Bank of China in Hong Kong May 18, 2006. [Reuters]
And he said there is plenty of room to grow as the world's most populous nation grows more affluent. He noted that there are only two credit cards per 100 Chinese, while in America there are 200 cards per 100 people.
"Bank of China is at the center of this personal banking boom," Li added.
But the bank will have some serious competition by the end of this year when China opens up its banking sector to foreign lenders, like HSBC Holdings PLC and Citigroup Inc.
Amid the hoopla of Bank of China's IPO, there are those who point out that risks are still lurking. A report by Lehman Brothers recently questioned whether the bad loan problem has been fixed.
The report by Rob Subbaraman and Wenzhong Fan said that government bailouts, IPOs and restructuring do not necessarily improve management and lending behavior.
But these concerns probably won't scare off many investors, said Howard Gorges, vice chairman of South China Brokerage.
"People are not expecting to buy perfection, as long as they feel there's an improving trend underway, given the size of the Chinese economy and the scope of Bank of China within that. They're buying a piece of China," Gorges said.
The IPO on June 1 plans to raise US$9.9 billion (euro7.75 billion) -- and eventually hit US$11.4 billion (euro8.93 billion) with the greenshoe, or an extra 15 percent of shares that could be sold a few weeks after the IPO prices. That would make the listing the world's largest since a US$10.6 billion (euro8.3 billion) IPO by AT&T Wireless Services Inc. on April 26, 2000.
The listing has been bolstered by major international investment firms that have already bought stakes in Bank of China. They include Royal Bank of Scotland Group PLC, Merrill Lynch & Co. and Temasek Holdings -- the Singapore government's investment arm.
Gorges said the heavyweights were enlisted in the early days of planning the IPO partly to boost the bank's credibility because of past scandals. But he said in hindsight, they were not needed.
He said, "Frankly, in the markets we've had in the past six months, it hasn't been necessary to have any big names on board to sell an IPO in China."