China on Friday ordered safety inspections of all of its pharmaceutical factories following five deaths blamed on a phony ingredient in a gallbladder drug, and an official said it must improve regulatory supervision.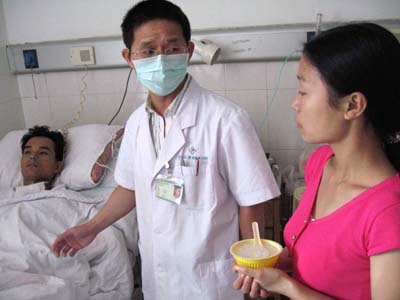 A patient receives treatment in a local hospital in Guangzhou, capital city of south's China Guangdong province May 15, 2006. The patient shows symptoms of acute renal failure and has been found to have taken a fake injection produced by a chemical works in Qiqihar, northeast China's Heilongjiang Provinc. The concerfeit medicine have led to four deaths. [Xinhua]
"Drug administrations should immediately launch comprehensive checks of raw materials purchased, management of materials and examination of finished products of pharmaceutical plants," the State Food and Drug Administration said in an order reported by the Xinhua News Agency.
China has hundreds of drug production lines run, by Chinese companies on their own or in joint ventures with foreign partners.
Also Friday, Premier Wen Jiabao sent officials to investigate the deaths caused by the gallbladder drug and promised that "anyone who broke the law will be punished," state television reported.
"We must further improve supervision and administration of drug production to ensure the safety of drugs and prevent such accidents from happening again," said an unidentified official of the drug agency quoted by Xinhua.
Other patients have been hospitalized after being injected with the drug, which was meant to treat inflamed gallbladders but was made with a toxic chemical that causes kidney failure.
The drug company, Qiqihar No. 2 Pharmaceutical Co. Ltd., blamed a supplier that it said supplied toxic diglycol instead of propylene glycol, which is used in the drug. The company said its safety inspectors failed to catch the switch.
The vendor and seven people associated with the factory have been detained.
Investigators have found the same toxic chemical, diglycol, in four other drugs made by Qiqihar No. 2 Pharmaceutical, Xinhua said.
The team sent by Wen to Qiqihar in China's northeast includes police and officials from the health ministries and China's drug regulator, state television said on its evening news.