Famous rock singer Dou Wei made a formal statement through his lawyer on Wednesday to apologize for his aggressive behavior at the Beijing News office last week, reports Chinese website sohu.com.
Dou is currently in custody after storming into the Beijing News newspaper's editorial department on May 10, 2006. He demolished several computers and a television set then set fire to a car parked in front of the building and entrusted his lawyer with a formal statement. He will compensate the company for the losses.
Dou said he sincerely hopes others singers and actors don't imitate him when facing similar situations. He also acknowledged the understanding of the media, fellow musicians and his fans over the incident.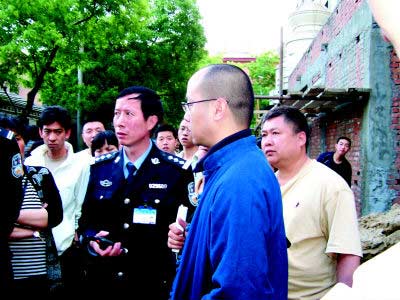 Rock singer Dou Wei (front) is taken away by police officers after setting fire to a car parking outside the office building of the Beijing News, May 10, 2006. [Sina.com]
On Wednesday, Cui Jian, another famous Chinese rock singer made an announcement, expressing support for Dou.
Cui said the media constantly harasses Dou and his angry outburst should make people think about the relationship between artists, media and the public. Cui called for sound legislation on news reporting and strong protection of artists' privacy.
"It is a serious warning to the media and society, even though Dou was wrong to explode in anger," Cui said.
"Dou took responsibility for his actions," Cui commented, "he reported to the security authorities himself and didn't leave the scene until the police arrived."
Cui went on to say that Dou Wei isn't a threat organizations or individuals.
"It's up to the judiciary system to decide whether to convict him or not, " he added.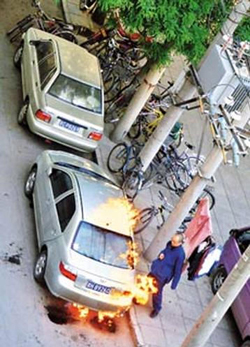 The car ignited by Dou Wei parks outside the office building of the Beijing News, May 10, 2006. [china.com]
But late Friday, Beijing News declared they didn't agree with Dou's opinion that "the newspaper's staff and Dou can't negotiate well with each other". The newspaper expressed its regret, saying Dou should take legal responsibility over the incident.
The announcement pointed out that Beijing News managers had restrained themselves from anger at the time, and showed great goodwill to listen to Dou, despite his violence. Senior staff said they had informed Dou that his complaint would be settled by 6 o'clock, and were surprised when he set fire to a car.
Dou once swore at his co-stars during a performance and is frequently in the news as his ex-wife, retired Hong Kong pop singer Faye Wong, is expecting a second baby soon with mainland soap opera star Li Yapeng.
Dou Wei is widely recognized as a rock pioneers and has huge influence on new Chinese music.