Return of smuggler suspect sets for May 26
(Shanghai Daily)
Updated: 2006-05-19 13:37
Lai Changxing, a fugitive whom Chinese authorities accuse of being a criminal kingpin and now in Canada, may be deported to China next Friday, officials said yesterday, according to China News Service.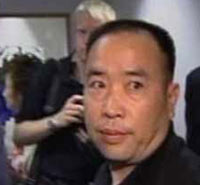 Lai Changxing [file photo]
Lai was arrested by Canadian Border Services Agency officers on Tuesday after a final review concluded he would not be in danger if deported to China to face charges that include smuggling and bribery.
But an Immigration and Refugee Board member has revoked the detention, rejecting arguments by the agency that Lai has untapped financial resources he will use to flee before being sent back to China next Friday.
Board member Leeann King says that during more than six years of legal proceedings to stay in Canada, Lai has largely complied with restrictions that have allowed him to remain free in Vancouver. His lawyers are also headed back to Federal Court next week to challenge a pre-removal assessment, which gauges the risks he might face after returned to China.
China accuses Lai of heading a syndicate based in the southeastern port of Xiamen that smuggled as much as US$10 billion worth of goods ranging from cigarettes to cooking oil under the protection of corrupt government officials.
Lai, his wife Tsang Mingna and their three children arrived in Canada in August 1999 after fleeing mainland via Hong Kong.