Annan to meet President Hu, discuss Iran, N. Korea
UN Secretary General Kofi Annan is due to meet Chinese President Hu Jintao on the first day of his visit to China, with North Korea, Iran and East Asian tensions expected to be on the agenda.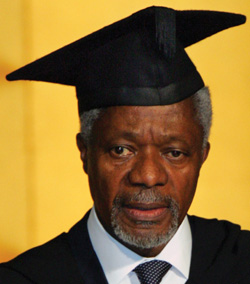 UN Secretary-General Kofi Annan delivers a commemorative speech to students during an honorary degree conferment ceremony at the University of Tokyo May 18, 2006. Annan said on Thursday that those involved in negotiations over Iran's nuclear crisis should tone down their rhetoric, a day after the Iranian president slammed an EU proposal, calling it "candy for gold". [Reuters]
Annan flew out of Tokyo on Friday morning for China to begin the third leg of his five-nation Asian tour in which he has already spoken out on the global stand-offs over the Iranian and North Korean nuclear issues.
With China a permanent, veto-wielding member of the United Nations Security Council and a key player in both the Iran and North Korean stand-offs, Annan's visit was expected to be closely watched by the international community.
In Japan, Annan said on Thursday that better diplomacy was needed from all sides in helping to resolve the two nuclear disputes, and warned the world was moving mindlessly towards a situation where all nations wanted nuclear weapons.
In a speech at the University of Tokyo, Annan said the world appeared "to have reached a crossroads" on whether nations should restrict nuclear weapons or feel obliged to possess them.
"The international community seems almost to be sleepwalking down the latter path -- not by conscious choice but rather through miscalculation, sterile debate and the paralysis of multilateral mechanisms for confidence-building and conflict resolution," he said.
Annan urged all sides to tone down the fiery rhetoric over Iran and negotiate face-to-face.
China has had an influential role in the Iran dispute by siding with Russia to resist US-led efforts to introduce a UN Security Council resolution that would legally bind Tehran to stopping its uranium enrichment work.
China and Russia say such a resolution could heighten tensions and open the door to a military attack on Iran -- an option that the United States is refusing to take off the table.
China is similarly an important player in the North Korean dispute, as it is host to the six-party talks and believed to be able to exert more influence on Pyongyang than any other nation.
Annan called in Tokyo for a resumption of the six-nation disarmament talks, which have stalled since November last year over objections from Pyongyang to US financial sanctions over money laundering and counterfeit allegations.
"There is no viable alternative to the six-party talks. The international community must do everything possible to move the process forward and resolve the situation peacefully," Annan said in Tokyo.
In recent days, Annan has also sought to exert some influence on Japan's continued disputes with China and South Korea over the neighbors' wartime histories.
"Recently, there are new tensions between Japan, China and South Korea," said Annan, who began his Asian tour in Seoul.
"I think there are areas all the countries can say and make gestures to reassure and to put their past to rest and look forward to the future."
Aside from meeting with Hu on Friday afternoon, Annan is scheduled to hold talks with Chinese Premier Wen Jiabao on Monday. Annan will deliver a speech at Peking University on Tuesday, the final day of his China visit.
Annan will then travel to Vietnam and Thailand.