US negotiator on North Korea to visit China
(Reuters)
Updated: 2006-05-19 10:54
The chief U.S. negotiator to six-party talks on dismantling North Korea's nuclear programs will visit Beijing next week, China's foreign ministry said on Thursday, amid a renewed push to revive the stalled negotiations.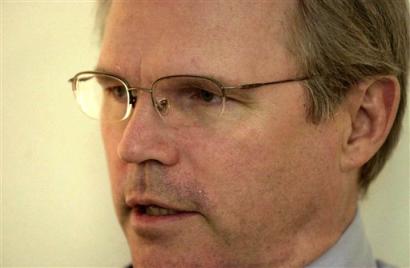 Christopher Hill, the top U.S. envoy on the standoff over North Korea's atomic weapons program, speaks during an interview with the Associated Press at U.S. Embassy in Seoul, April 7, 2005. [AP]


Christopher Hill will hold talks with his Chinese counterpart, Wu Dawei, during the May 24-25 visit to China, which has played host to talks that North Korea has refused to return to since an inconclusive session last November.

"The six-party talks are presently facing some difficulties and require the relevant sides to adopt a flexible attitude ... and push forward the early resumption of talks to make continuous progress," the Foreign Ministry said in a statement.

News of Hill's visit comes as the New York Times reported that the United States was considering a new approach to North Korea that would involve beginning negotiations on a peace treaty at the same time as the six-party talks.

North Korea has long demanded a permanent peace treaty to replace the armistice that ended the 1950-53 Korean War.

Chinese Foreign Ministry spokesman Liu Jianchao said he had not seen the New York Times report but added that China would welcome discussions on a peace treaty and said such an agreement could help push forward the goal of a nuclear-free Korean peninsula.

"I hope the parties concerned can take practical measures to narrow their differences and build consensus," Liu told a regular news briefing.

It was unclear whether opening discussions on a peace treaty would lure North Korea back to the nuclear talks, which group the two Koreas, the United States, Japan, Russia and host China.

"It sounds all very plausible, except it has a precondition that essentially makes it a non-starter," said Kim Sung-han of the Institute of Foreign Affairs and Security in Seoul, which is affiliated with South Korea's foreign ministry.

He was referring to the North returning to the talks.

Pyongyang has refused to return to the six-party talks since last November in anger over Washington's crackdown on firms the United States suspects of aiding the North in illicit financial activities.