Typhoon Chanchu slammed into China's southeastern coast, killing at least 21 people and forcing the evacuation of more than 1 million residents, as torrential rains and winds caused landslides and flooding.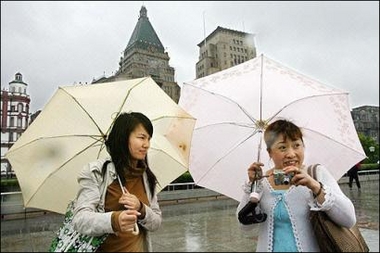 Chinese tourists from Jilin brave the wind and rain to take photos on Shanghai's historic Bund area. Typhoon Chanchu slammed into China's southeastern coast, killing 16 people and forcing the evacuation of more than one million residents, as torrential rains and winds caused landslides and flooding. [AFP]



Eight people, including two children, were killed when their houses collapsed in a landslide in Guangdong province's Shantou city, where the strongest storm recorded in the region this season hit, an official at the local flood control center told AFP.

And in the neighboring Fujian province in southeast China, 13 people were killed and four were reported missing. Preliminary estimates show direct economic losses caused to this province amounted to 3.802 billion yuan.

The typhoon had already killed 41 people and left thousands homeless when it tore through the Philippines last week. It is the strongest on record to have entered the South China Sea in May, the Hong Kong Observatory said.

A total of 1.04 million people were evacuated from their homes in mainland China as the typhoon brought gale force winds and heavy rainstorms, the official Xinhua news reported.

In Guangdong, 327,000 people were forced to flee their homes, Xinhua said, while another 709,000 were evacuated in Fujian.

There were conflicting reports as to the whereabouts of the crew of 11 Vietnamese fishing vessels hit by the storm on Tuesday night and Wednesday morning.

Most of the 100 or so crew appeared to be safe but Vietnamese rescue officials and state media said 27 fishermen could not be reached by late Thursday.

Chanchu, which means "pearl," struck the coastal areas between Shantou in Guangdong province and Zhangzhou city, in Fujian province, at 2:15 am Thursday (1815 GMT Wednesday), the China Meteorological Station said.

In Shantou, nearly all roads were flooded and there were several blackouts.

One village, unnamed in media reports, but home to some 6,400 people, was cut off by flood waters and 500 soldiers had to be deployed to rescue the residents, another Shantou official said. However nearly 200 houses in the village collapsed.

State television showed soldiers pulling residents by boat through flooded streets. Trees swayed wildly as strong winds lashed the area.

Around 100,000 fishing boats and other vessels in Guangdong and Fujian were recalled to harbor to seek shelter.

More than 70 flights were cancelled in the Chinese coastal cities of Guangzhou, Xiamen and Shanghai, leaving 1,000 passengers stranded, the China Daily said.

After hitting southern China, the typhoon continued to move northward along the coastal areas of Fujian province at 25 kilometers (15.5 miles) per hour.

Whipped by the strong winds and heavy rain, Fujian by 3 pm (0700 GMT) suffered heavy losses, with estimated damage reaching 3.8 billion yuan (475 million dollars), including destroyed crops and farm animals, the bureau's website said.

More than three million people in Fujian were affected, it said, with 9,600 rooms collapsed.

In Shantou, where the typhoon first landed, air, sea and land traffic began returning to normal after the passed over.

"Many of the people evacuated have begun returning home, but others who lived in dangerous housing remain in shelters in the schools," a Shantou official told AFP.

The typhoon was expected to head from Fujian north towards China's major eastern coastal cities, including Wenzhou city in Zhejiang province and Shanghai.

But while it was predicted to bring rain all along the coast, it was expected to gradually lose its strength later Thursday and not wreak havoc in the cities further north.

Nevertheless, the Ministry of Land and Resources put in place an emergency alert for landslides and mudslides, ordering provinces to take measures to prevent the loss of lives and property.

Shoddy construction on unsafe hillsides are often the cause of death when typhoons trigger landslides.

Chanchu formed in the Pacific, about 550 kilometers east of Mindanao island in the Philippines, on May 9.

The storm was initially expected to hit Hong Kong, but changed course over the South China Sea and brushed past the territory.