Chairman Mao portrait up for auction
(China Daily)
Updated: 2006-05-19 07:58
An original painting of China's founding leader Mao Zedong, which served as a model for portraits hung above Beijing's Tian'anmen Rostrum in the 1950s and 1960s, will be auctioned on June 3 in Beijing.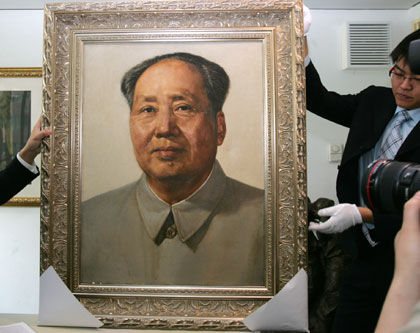 Workers display the portrait of Chairman Mao Zedong at an auction preview in Beijing May 17, 2006. [Xinhua]

The painting, owned by a Chinese American, is expected to fetch 1-1.2 million yuan (US$120,000-150,000) at the sale, which is open to both Chinese and foreign bidders, Li Feng, an official with Beijing Huachen Auctions, told China Daily yesterday.

Created in the 1950s by Mao portraitist Zhang Zhenshi, the painting is 91 cm long and 69 cm wide. Posters of the portrait were made and circulated throughout the country at the time.

Zhang, born in 1914, passed away in 1992.

In 1950, Zhang was among more than 30 painters invited from across the country to Beijing to draw a new painting of Mao in order to celebrate the first anniversary of the People's Republic of China, the Beijing Times reported.

It is reported that the buyer of the Mao portrait will be free to take it out of the country.

Articles relating to Mao have been hot in the auction market in recent years.

In 2003, an oil painting of Mao, which was painted by late painter Dong Xiwen, was sold through auction at the price of 220,000 yuan (US$27,000).

Zhang's painting that will be auctioned early next month is part of an auction organized by Huachen Auctions from May 31-June 4 in Beijing.

At the event, more than 1,000 pieces of Chinese paintings, porcelain and jewellery will go under the hammer.