A curvaceous body is becoming the benchmark for beauty in China and many women are paying big bucks to attain that dream figure.
But up to 300,000 may have paid too high a price. The dream of beauty is in ruins; and worse, their health might have been irreparably damaged.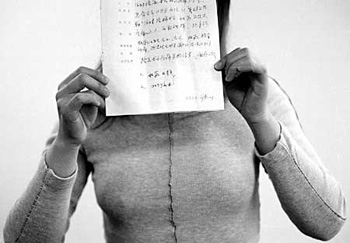 A woman shows a doctor's report on the condition of her breasts, which were left an unequal size after a breast-enlarging operation. [China Daily]
The women went through a popular operation to inject a colloidal liquid named Ao Mei Ding which translates as "man-made fat" into their breasts for enhancement.
Many are in such agony that they can hardly sleep; and some have had the harrowing experience of having their breasts removed to save their lives.
Even the more fortunate ones are not quite so because remnants of the liquid will stay in other parts of the body throughout their lives, causing pain and disease.
The liquid was made by Fu Hua Pharmaceutical Co Ltd in Northeast China's Jilin Province.
The company is a subsidiary of Shenzhen-based Fu Hua Group, which also owns three hospitals in Shanghai, Shenzhen of South China's Guangdong Province, and Changchun, capital of Jilin.
On April 30, China's State Food and Drug Administration (SFDA), which had approved use of the liquid on a trial basis in 1999 and its production in 2000, reversed its decision and banned it, saying: "It continuously caused negative effects and consumer complaints, and the administration's monitoring centre believes its safety cannot be guaranteed."
Before the ban, Ao Mei Ding had been a very popular breast-enlarging injection used in many small and medium-sized hospitals and beauty salons in the country.
According to the Chinese-language Beijing Times, Ao Mei Ding received approval for trial use before it was tested on animals as regulations require.
No further information on that issue was available.