More than 620,000 people were evacuated from the coastal regions of Guangdong and Fujian provinces Wednesday as the strongest typhoon on record to enter the South China Sea in May bore down on the south coast.
The stormy weather played havoc with transport, causing flight and shipping cancellations and delays. There was no report of casualties.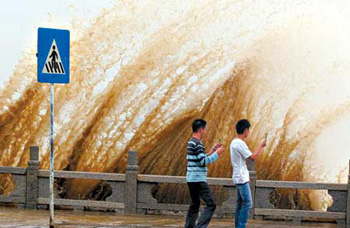 Residents of Zhuhai, Guangdong Province, are not deterred by the huge waves Wednesday, May 17, 2006.(Xinhua)
Typhoon Chanchu (meaning pearl in Chinese), packing winds up to 170 kilometres per hour (kph), continued to to move northward along the coastal areas of east China's Fujian Province after it landed in Shantou City of neighboring Guangdong Province at 2:15 a.m. Thursday, local meteorological sources said.
Affected by Chanchu, Xiamen, Zhangzhou and other coastal cities in southern Fujian were hit by rainstorms Wednesday, with rainfall ranging from 50 mm to 555 mm, according to the latest statistics from the Fujian provincial flood prevention office.
It was forecast to make landfall between Huilai of Guangdong and Zhangpu of Fujian early this morning, according to the Fujian Provincial Meteorological Bureau, which said the heavy rainfall was posing a flood threat.
At 8 pm yesterday, Chanchu was 120 kilometres south of Shantou where many streets were flooded said Huang Zhong, chief weatherman of the Guangdong Meteorological Observatory.
In Fujian, more than 307,000 people were evacuated from the coast and 42,000 ships ordered to seek shelter in harbour.
In Guangdong, about 320,000 residents were moved to safety and 58,000 ships returned to harbour.
Transport links in the region were badly affected yesterday.
By 4 pm, 10 flights from Guanzhou were cancelled and 16 delayed, leaving more than 1,000 passengers stranded. Most flights to and from Shantou in eastern Guangdong were cancelled.
In Xiamen, a port city of Fujian, 26 flights were cancelled, most of them heading to other coastal cities. Passenger ferry services to Jinmen were also suspended.
China Eastern Airlines cancelled 38 flights from Shanghai to Hong Kong and Shenzhen, a coastal city in Guangdong.
Hong Kong suspended air, sea and land travel. The airport said that 52 incoming and outgoing flights were cancelled and eight delayed.
The typhoon killed 37 people and left more than 1,000 homeless as it swept across the Philippines last weekend.
The Ministry of Communications has said that at least 50 rescue ships and five airplanes are on call for emergencies.