Almost half a million people have been evacuated from China's southern provinces of Guangdong and Fujian Wednesday as Typhoon Chanchu is expected slam the coastline Wednesday evening or Thursday morning.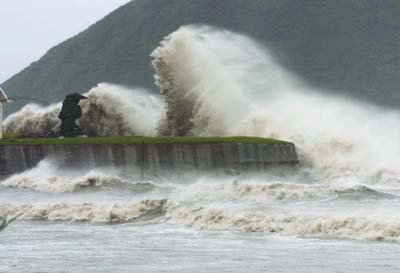 Strong waves smash into an embankment off eastern coast of south China's Guandong province May 17, 2006. Chanchu- the worst typhoon on record to enter South China Sea in May - is expected to make a landfall at Huilai and Raoping in southern Guangdong province.
In Fujian more than 307,000 people have been evacuated from coastal areas and 42,000 ships ordered to seek safe harbor. In Guangdong 180,000 residents have been moved from the coast and 25,000 ships have returned to harbour.
In Xiamen, capital city of Fujian, 26 flights have been cancelled, most of which were heading for other coastal cities and Hong Kong. Passenger ferry services to Jinmen have been suspended until Thursday.
The Xiamen Tourism Bureau has ordered all tourist sites to close between Wednesday to Friday.
China Eastern Airlines headquartered in Shanghai on Wendesday cancelled 38 flights heading for Hong Kong and Shenzhen, a coastal city in Guangdong.
Chanchu, which is packing winds of 144 kilometers an hour, has already brought gale-force winds to Fujian's southern coastal areas and heavy rainstorms in the west. Many localities have reported landslides and flooding, according to the Fujian meteorological bureau.
After lashing Hong Kong Wednesday, the typhoon, which is packing the strongest winds in the South China Sea in May, continues to move northeastward at 15 to 20 kilometers per hour. It is expected to hit the mainland between Huilai of Guangdong and Zhangpu of Fujian Wednesday afternoon or Thursday morning, according to the Fujian Provincial Meteorological Bureau.
The typhoon forced Hong Kong to suspend air, sea and land travel.
The Hong Kong Airport Authority said that 52 incoming and outgoing flights have been canceled and eight were delayed. Most of them were on route to Chinese mainland cities.
Chanchu, which means "pearl", formed in the Pacific, about 550 km east of Mindanao island in the Philippines on May 9. It hit central Philippines on Saturday, killing at least 32 people and leaving more than 1,000 others homeless.