A killer typhoon picked up speed Tuesday as it spun closer to South China, forcing cities such as Hong Kong, Shenzhen and Guangzhou to warn small ships and fishing boats on the open seas to seek shelter from the storm the strongest on record to enter the South China Sea in May.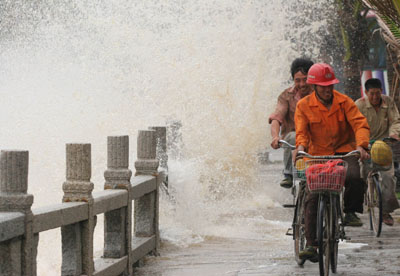 Several cyclists ride through a bridge as strong waves rage in Zhuhai, south China's Guangdong province May 16, 2006. Typhoon Chanchu is barrelling towards southern China after claiming at least 41 lives in the Philippines and becoming the strongest storm on record to enter the South China sea in May. [Xinhua]
More than 180,000 people have been evacuated from coastal areas to safe places in south China's Guangdong Province as typhoon Chanchu, the first tropical storm of this year, is approaching.

The province had called back 25,219 ships operating on sea by Tuesday night, according to the provincial disaster relief office on Wednesday.

Typhoon Chanchu's (meaning Pearl in Chinese) eye is expected to pass just east of Hong Kong today before slamming into Guangdong Province, the Hong Kong Observatory said.
The typhoon may land in the coastal areas between Huidong and Raoping Counties between noon and night on Wednesday or may move toward the Taiwan Strait, passing the eastern coast of Guangdong.

Chanchu was about 440 kilometres south of Shanwei in Guangdong at 8 pm yesterday, moving at 20-23 kilometres per hour (kph) and packing winds of 162 kph near the storm's centre.
It roared towards South China after wreaking havoc in the Philippines last weekend, killing at least 37 people and leaving thousands homeless.
As Chanchu approached, the Hong Kong Observatory also said people should stay away from the shoreline because of the threat of swells.
The Guangzhou Meteorological Station forecast that the typhoon may land in the coastal regions between Shenzhen and Raoping County this afternoon or tomorrow morning.
But Chanchu may also change direction towards Fujian Province or the Taiwan Straits, said Huang Zhong, the chief weatherman with the Guangzhou station.
He said the typhoon was expected to bring rainstorms to most parts of Guangdong starting last night, adding the stormy weather would last until tomorrow.
Wang Yongxin, chief forecaster of Guangdong Marine Observatory, said Shantou in the eastern part of the province could be hardest hit.
Rescue ships and helicopters of South China Sea Rescue Bureau were standing by yesterday.
Fujian and Hainan provinces are also braced for damage with the latter ordering a halt to sea and rail transport across the Qiongzhou Strait between the island and Guangdong.
In Shenzhen, local authorities issued landslide warnings at some vulnerable places and were ready to evacuate people if necessary. Advertisement boards in the city were either reinforced or removed.
Once signals of a strong typhoon or strong storm are sent, schools should suspend classes immediately and ensure the students go back home safely, according to education officials.
The city will open all temporary shelters during the typhoon period; and the government has advised people to stay at home, close windows and move flowerpots from balconies.
Vice-Minister of Communications Xu Zuyuan told an emergency conference yesterday that joint efforts should be made among various departments to prepare for Chanchu, which threatens a large swathe of area.
China Daily, Xinhua and Agencies

(China Daily 05/17/2006 page1)