Man, 94, addicted to beauties
By Jessie Tao (chinadaily.com.cn)
Updated: 2006-05-16 11:19
Huang Chunyi, a 94-year-old from China's Taiwan Province, says looking at photos of beautiful women every day is the secret to his longevity.
Huang started to cut out photos of beauties when he retired 20 years ago.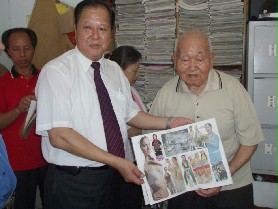 Huang (R) takes a photo with one of his beauty clippings in this undated photo. Behind him are piles of beauty scrapbooks. [Chinanews.com]
"Since then, I have collected more than 100,000 photos of beautiful women from newspapers and magazines," Huang said, "I have a look at these photos every day and this has helped to retain my sharp eyes and ears."
Pictures of Chiling Lin, a famous model from Taiwan, and Hollywood actresses Cameron Diaz and Penelope Cruz are among his favorites.
According to his son, Huang often clips photos late into the night and during big awards ceremonies, such as the Oscars, he worked well into the next morning. But he enjoyed it a lot.
"I hope these scrapbooks will become family heirlooms so that my grandchildren can get a look at them," Huang joked.
Huang used to be a chef in a restaurant and worked in Japan for many years. It was during that time he began to collect magazines, posters and calendars featuring beautiful women.