US lawmaker: Stop war shrine visits
(AP)
Updated: 2006-05-16 09:21
A leading U.S. lawmaker wants Japan's prime minister to assure the United States that he will scrap his controversial visits to a Tokyo war shrine.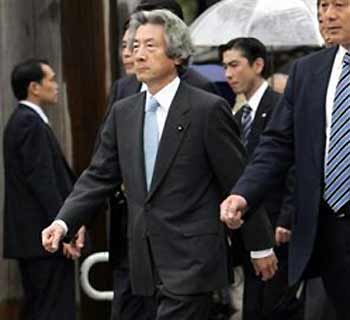 Japanese Prime Minister Junichiro Koizumi arrives at the Yasukuni Shrine in Tokyo Monday, Oct. 17, 2005. [AP]


In a letter obtained Monday by The Associated Press, Rep. Henry Hyde wrote that Prime Minister Junichiro Koizumi's annual visit to Yasukuni Shrine has the potential to embarrass Congress and offend World War II veterans if he goes there after a possible Koizumi speech next month before U.S. lawmakers.

"It would be optimal if some prior assurance could be given to the Congress and to America's World War II generation that such a sequence of events will not take place," wrote Hyde, the Republican chairman of the House of Representatives' International Relations Committee. He was a young U.S. Naval officer in the Pacific Theater during World War II.

Yasukuni honors Japan's war dead, including war criminals, and Koizumi's visits have infuriated Japan's neighbors, whose memories of Japanese occupation remain raw.

Koizumi, a staunch U.S. ally who has said he will step down in September, defends his visits to the shrine as a way to pray for peace. He has gone every year since taking office in 2001 but has yet to visit this year.

Hyde's letter from late last month was addressed to the powerful Speaker of the House, Rep. Dennis Hastert. Hastert's office would not comment on the letter Monday.

In the letter, Hyde cited media reports that Koizumi could travel to the United States in June and speak before a joint meeting of Congress.

He also referred to suggestions that Koizumi might visit Yasukuni around August 15, the 61st anniversary of Japan's surrender in the war.

Hyde welcomed a visit by Koizumi to the United States. He said it "would be an awkward juxtaposition of events," however, if, only weeks after appearing before the U.S. Congress, Koizumi were to visit a shrine honoring those who ordered the Japanese attack on U.S. forces at Pearl Harbor.

A spokeswoman at the Japanese Embassy in Washington said she had no information on Koizumi's coming trips to the United States.

The letter was reported Monday in the Japanese national daily Asahi Shimbun.