US welcomes rise in China currency
(AP)
Updated: 2006-05-16 06:18
The United States, which has been coping with a record-high trade deficit with China, welcomed the rise in China's currency, called the yuan or the renminbi.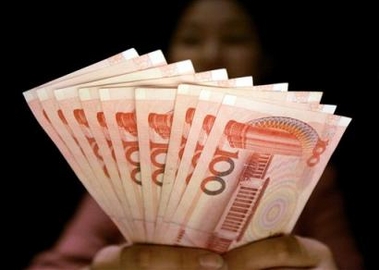 A clerk at an foreign currency exchange desk at a hotel shows Chinese yuan banknotes in Shanghai, China, in this July 22, 2005 file photo. China's official exchange rate rose Monday, May 14, 2006 to 7.9982 yuan per US dollar, its highest level since a revaluation in July, the government said. [AP]


"Greater flexibility in China's exchange rate is something we've long advocated," Treasury Department spokesman Tony Fratto said Monday in response to the appreciation in yuan.

China's official exchange rate broke through the psychologically important 8 yuan per US dollar level Monday, its highest level in more than a decade. Traders were hopeful the move may signal Beijing's willingness to allow its currency to appreciate faster.

Any evidence of greater exchange-rate flexibility "is something we certainly welcome," Fratto said.

The Bush administration has been prodding Beijing to let its currency float more freely with market forces.

US manufacturers say China is keeping its currency artificially low, making Chinese goods cheaper in the United States and US-made goods more expensive in China.

American manufacturers say the current system has hurt exports from the US and contributed to the loss of US factory jobs.

Sen. Chuck Schumer, D-N.Y., called Monday's movement in the yuan "good news but only if it portends further movement."

China announced last July that it would stop linking the yuan to the dollar and would take a basket of currencies as reference for its exchange rate. Although the United States applauded the move at that time, it has repeatedly said China needs to do more to revamp its currency practices.

Last week the Treasury Department in a report to Congress complained that China is moving too slowly to revamp its currency system. However, the administration declined to brand the country a currency manipulator ¡ª a decision that irked manufacturers, labor unions and other critics.

If the administration had made a finding that China was manipulating its currency to gain an unfair trade advantage, that would have triggered talks between the two countries. China also might have faced trade sanctions.