China's official exchange rate broke through the psychologically important 8 yuan per dollar level Monday, its highest level since a revaluation in July, in a move traders said might signal Beijing's willingness to allow its currency to appreciate faster.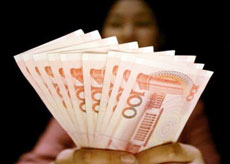 A clerk at an foreign currency exchange desk at a hotel shows Chinese yuan banknotes in Shanghai, China, in this July 22, 2005 file photo. China's official exchange rate rose Monday, May 14, 2006 to 7.9982 yuan per U.S. dollar, its highest level since a revaluation in July, the government said. [AP]

Analysts said the U.S. government's decision to not formally accuse China of manipulating its currency in a semi-annual report last Wednesday may have freed Beijing to let the yuan rise further.

Currency traders had been expecting the yuan, which had been hovering above 8 to the dollar for weeks, to break through sometime soon.

Authorities announced the yuan's official rate at 7.9982 yuan per dollar Monday, according to the official Xinhua News Agency. The government announces the official exchange rate each trading day by calculating the weighted average of prices given by 13 market makers excluding highest and lowest offers.

The yuan has slowly but steadily gained ground against the dollar since it was revalued by 2.1 percent on July 21, to 8.11 yuan. Since then, it has appreciated 1.38 percent against the dollar.

China's currency trades in a narrow range, limited to moving 0.3 percent above or below each day's parity rate.

Critics of China's foreign exchange policies accuse Beijing of controlling the yuan to keep its value artificially low. They contend that the yuan is undervalued by as much as 40 percent, giving Chinese exporters an unfair price advantage overseas and contributing to the country's growing trade surpluses.

Chinese officials have pledged to eventually allow the yuan to trade freely in the market, but favor a gradual approach, arguing that the country's fledgling financial system is not ready to face severe currency fluctuations.

Top officials have sought to avoid giving the impression that they are yielding to foreign pressure on the issue. Having escaped the "manipulator" label last week, they could move ahead, said Ichiro Ikeda, a senior sales representative with J.P. Morgan Securities Asia.

In a Xinhua report published Sunday, a spokesman for China's central bank, Li Chao, said China would continue to move toward loosening currency controls.

The U.S. dollar closed at 8.0054 on Friday on the automatic price-matching system and at 8.0063 on the over-the-counter market.