Visualize this: Shanghai as three concentric circles. In China's richest city, the foreigners live in the inner ring, outsiders in the next and natives in the outermost.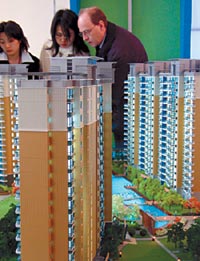 A foreigner looks at models of residential buildings at a property company's sales office in Shanghai. In China's richest city, the foreigners live in the inner ring, outsiders in the next and natives in the outermost. [China Daily]

That's how Zou Minsheng, editor of a local Shanghai paper and a man who was born and lived in the city for almost 50 years, sees it.

Exaggeration?

One just has to crunch these numbers in Beijing to get a feel for what Zou is talking about: A real estate report released last month says that more than half the homes sold in the capital last year were bought by people from outside the city.

That figure includes purchases by overseas buyers, who bought 13 per cent of the more expensive homes, the Chinese Academy of Social Sciences (CASS) says in its annual real estate report.

"With its special status as the nation's capital, Beijing has increasingly become home to people from other provinces and municipalities, as well as from abroad," the report says.

Tracking the movement of foreign capital, it is not difficult to discover that the country's real estate has a magnetic pull for overseas investors.

The world's leading institutional investors seem to be tripping over each other to invest in portfolios covering all types of property, including publicly traded or privately held real estate companies, as well as physical assets.

-- In March, Morgan Stanley said it would direct US$3 billion into the sector this year; its total investment in property over the past five years was US$1.5 billion.

-- A month later, Morgan Stanley Real Estate opened a Shanghai venture.

"With our team now permanently in Shanghai, our total capital commitment in China will continue to grow and we will continue to make creative, landmark property investments," says Alasdair Morrison, chairman of Morgan Stanley Asia.

-- In January, Credit Suisse Group-affiliated DLJ Real Estate Capital Partners and China Renaissance Capital Investment, as well as the US funds SIG and Farallon Capital, signed an agreement with Beijing Tianhong Group, a major developer in Beijing, for direct investment in real estate.

Three months later, the four funds signed a strategic agreement with Shanghai based E-house China, a leading domestic real estate service company, for collaboration.

"Foreign institutional investors are mainly interested in high-end office buildings," says James A Clark, head of REIT Optimisation Group with Jones Lang LaSalle Asia.

A report by CB Richard Ellis says that the average sale price for office space in Beijing rose by 7 per cent in 2006 to US$2,325 per square metre. Average rental rates are also growing by the same rate.

-- Morgan Stanley Real Estate and Shanghai Dragon Investment bought a 38-storey office building in downtown Shanghai for US$90 million in September.

-- Last month, Goldman Sachs acquired Bai Teng Tower in Shanghai for US$108 million from CapitaLand, a leading Singapore-based, publicly listed property developer.

Why is foreign capital so eager, despite uncertainty in the overheated market that is worrying many officials and domestic economists?

"It's because China's economy is growing rapidly. Look back into world investment history capital always pursues the developing markets," Jones Lang LaSalle's James says.