Water quality at the upper reaches of the Yangtze River, China's longest waterway, has remained unchanged after the Three Gorges Dam began storing water in 2003, says a chief builder of the project.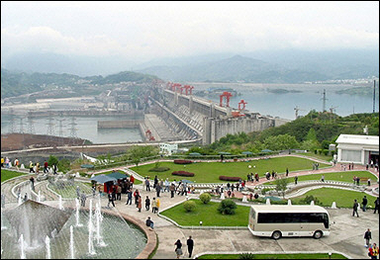 Three Gorges Dam project, which is near completion, seen 15 April 2006. [AP]
"The dam area has maintained a sound ecological environment and water in the Yangtze's upper reaches is still up to drinking standards," said Xie Xiufa, a water conservancy specialist and senior engineer with the Yangtze River Water Resources Committee, in an exclusive interview with Xinhua on Sunday.
The natural water flow in Yangtze's Three Gorges was stopped on June 10, 2003 to make way for further construction of the Three Gorges Dam, which is believed the largest water control project in the world.
Thanks to China's efforts to curb water pollution, soil erosion and geological disasters, the water control project has not posed a threat to local environment, said Xie, adding, "Water quality in the Three Gorges reservoir has met the country's surface water standards and remained more or less the same as before the Yangtze was dammed."
The Chinese government plans to spend nearly 40 billion yuan (5 billion U.S. dollars) between 2001 and 2010 on at least 150 sewage treatment plants and 170 urban garbage disposal centers to prevent water pollution in the Three Gorges Dam and the upper reaches of the Yangtze River.
Xie said the Three Gorges water control project has "fine-tuned" the local climate. "We've observed an average temperature rise by 0.2 degree Celsius -- a rise between 0.3 to 1 degree Celsius in winter, but a fall between 0.9 and 1.2 degrees Celsius in summer. So we're having warmer winters and cooler summers in the dam area."
The expert also ruled out possibility of major earthquakes in the Three Gorges Dam area, which is far from quake-prone regions. The maximum tremor ever detected there measured 2.5 on the Richter scale.
China has built a joint surveillance network to monitor the water quality, tremors and climate changes in the Three Gorges Dam. Meanwhile, botanists have been working to preserve biodiversity in the dam area to improve its ecological environment, he said.
Launched in 1993, the Three Gorges Project, including a 185-meter-high dam and 26 generators on both banks of the Yangtze River, is being built in three phases on the middle reaches of the Yangtze.
The mammoth dam of the Three Gorges Project is expected to be completed next Saturday.
In accordance with the construction schedule, the entire Three Gorges Project will be completed in 2009 and by then, it will be able to generate 84.7 billion kwh of electricity annually.