China will continue to improve its currency regime and seek greater flexibility of the yuan while keeping the exchange rate stable at a suitable and balanced level, a Foreign Ministry spokesman said yesterday.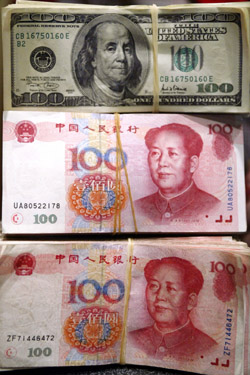 A stack of 100 US dollar notes and 100 yuan notes at a foreign bank in Shanghai in this September 3, 2003 file photo. China will continue to improve its currency regime and seek greater flexibility of the yuan while keeping the exchange rate stable at a suitable and balanced level, a Foreign Ministry spokesman said yesterday. [Reuters]
He made the remarks after the Bush administration on Wednesday said it would not brand China as a country manipulating its currency for unfair trade advantage.
"China has always taken a highly responsible attitude in defining its currency regime and proceeded on a path conducive to China's economic and social development, as well as to regional economic and financial stability," Liu Jianchao told a news briefing in Beijing.
"We will stand firm in our reform of the financial system to improve mechanisms for the renminbi exchange rate, increase the flexibility of the exchange rate, improve the ability of financial institutions to manage risks and ensure that the renminbi exchange rate remains stable and rational," Liu said.
The US Treasury Department said Beijing was moving, albeit "slowly," on currency reforms.
China ended the yuan's decade-old peg to the US dollar last July, switching to a more flexible exchange rate system linked to a basket of world currencies. The government has allowed the yuan to rise by more than 3 per cent against the dollar since then.
"The Treasury Department will closely monitor China's progress in implementing its economic rebalancing strategy... and continue actively and frankly to press China to quicken the pace of renminbi flexibility," the Treasury Department said in a semi-annual report on currency practices of key trading partners.
Two key lawmakers Lindsey Graham, a South Carolina Republican and Charles Schumer, a New York Democrat said on Wednesday they would not seek punitive trade legislation against Beijing until September 30 in order to give China more time to adopt a more flexible foreign exchange rate regime.
The Treasury said China did not meet "technical requirements" set out in a 1988 law for being labelled a manipulator and cited a commitment to move to a flexible exchange rate given by Chinese President Hu Jintao during a US visit in April.
Treasury Secretary John Snow said the United States is not setting any deadlines for Beijing to demonstrate greater latitude in its foreign exchange regime.
"We don't have a specific target in mind," he said, when asked if the United States was seeking progress by year-end.
The report implied that the Treasury intends to enlist the International Monetary Fund (IMF) in a strengthened currency surveillance role.
"It is also important that reforming China's exchange rate regime be part of an international effort," the report said. It added the Treasury "is supportive of the IMF managing director's commitment to strengthen IMF exchange rate surveillance, both bilaterally and multilaterally, as a means to assist materially this process."
The Treasury has led a drive for the IMF to carry more of the burden of persuading countries to let market forces play a larger role in setting exchange rates, describing currency surveillance as the IMF's main reason to exist.
Nobel laureate's warning
Nobel laureate Robert Mundell said yesterday that a strong appreciation of China's currency would threaten the country's stunning economic growth and could wreak havoc on the region.
"A big appreciation would be a source of a major crisis in Asia," Mundell, a professor of economics at Columbia University, told reporters in South Korea.
"It wouldn't be the same as it was before, it would be a different kind of crisis," he added, referring to the devastation of 1997-98 that wrecked economies including Thailand, Indonesia and South Korea.
Mundell, in Seoul to address the Samsung Global Investors Conference, won the Nobel Prize in economics in 1999 and his ideas are credited with laying the groundwork for the euro.
He advocates the establishment of a world currency in which each country's monetary unit would exchange at par with the global one.
(China Daily 05/12/2006 page1)